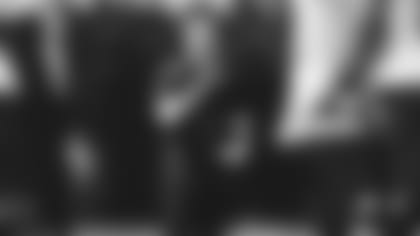 Jets offensive coordinator Mike LaFleur received some new toys in the offseason. General manager Joe Douglas signed a Pro Bowl LG in Laken Tomlinson and a pair of starting-caliber tight ends in C.J. Uzomah and Tyler Conklin before drafting debatably the top WR in the available (Garrett Wilson, No. 10 overall) and the top RB (Breece Hall, No. 36 overall).
"You want to be the best you can, but what I'm anxious for right now is seeing how well we get through these OTAs, and that's the truth," LaFleur said on Wednesday. "September is a long way away. Even putting the pads on for training camp is a long way away. The focus is for each and every individual to get as good as they can, connect as much as they can in terms of off the field in the timing and aspect of it, particularly from the pass game because that's what the OTAs have turned into. It's turned more into a passing camp and the run game more of a jog through."
QB Zach Wilson, entering Year 2, has been described as "thick" and "beefy" by HC Robert Saleh, but LaFleur has been impressed by Wilson's processing in the spring.
"Just in the huddle, he's so comfortable that before I give him a play that he's dapping it up with everybody else talking to them as I'm saying a play," LaFleur said. "That just tells you right there he kind of knows what's being said and can obviously relay it to the guys. It's been pretty cool from all those angles."
While most of the attention will turn to the franchise quarterback, Wilson isn't the only player expected to take a jump in Year 2. WR Corey Davis, who last season was on track to eclipse 1,000 yards for the first time in his career before sustaining a season-ending groin injury, has been a full participant in OTAs.
"He's been great," LaFleur said. "Everyone's focus is going to be very different in those three or four months that they're not in the building and his was getting healthy, and career longevity for that matter. I know he put a lot of time in Nashville, he looks great. He's always looked the part from a physical standpoint. He looks good, he's moving good. There's that balance of these OTAs and Phase 2 in getting a lot of work with Zach because Zach is only in his second year, so there's a timing element between those two and making sure he's in tip top shape come September.
"He's looked good and has been in good spirits. He's going into his sixth year, so any time you've been in this league for six years and have a first-round pick as high as Garrett [Wilson], he's going to have some piece of advice that I'm not even going to hear. It's going to be player to player and vet to rookie, so I know he's helping him there."
Davis is the veteran in a young room that includes second-year WR Elijah Moore, who led the Jets in receiving yards in 2021; All-Pro KR Braxton Berrios; third-year WR Denzel Mims, who Saleh said is in fantastic shape; and now Wilson, who brings 4.38 speed.
"Everyone studied him in their own way," LaFleur said of the former Buckeye, who totaled 70 receptions, 1,058 yards and 12 TDs in 2021. "The thing you don't know until you actually get someone into the building is how much they care about learning the ins and outs, the details of the scheme and the details of the route running. He's so locked into that stuff and I'm probably understating that. You knew that talking to their coaches at Ohio State and all the awesome work our scouts do, but until you actually see it in person and you can look into someone's eyes knowing that this really does mean something to him in terms of learning it as fast as humanly possible, that's what's been really cool.
"The player, he's going to be a rookie and go through his ups and downs as they all do. Hopefully more ups and I preach urgency to these guys. This league doesn't wait for anybody, coaches or players, so you don't have to wait until Year 2 to be the best player you can be. You can get it done now, but you have to be urgent with our focus."