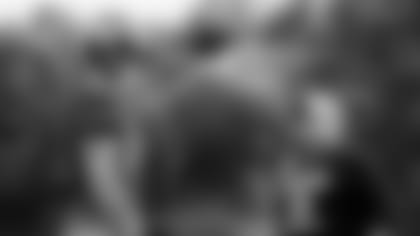 Dowell Loggains is in his 14th season as a coach in the National Football League. He's been a member of four other staffs —the Tennessee Titans (2008-13), the Cleveland Browns (2014), the Chicago Bears (2015-17) and the Miami Dolphins (2018)—and worked with many standout players along the way. But when the opportunity arose to head somewhere new, there was one player who made his latest opportunity different in New York: Sam Darnold.
"It was like, 'Hey, we have a chance to go to a place and mold a young quarterback that has all of the tools to be successful,'" Loggains said. "He loves football, he's a great teammate, great person, and he was raised the right way by mom and dad. That's what got us excited about coming here."
As both the offensive coordinator and quarterbacks coach, Loggains works with the 22-year-old every day. Before Darnold suffered a bout of mono, which kept him out of the lineup for four weeks and three games, Loggains was able to get a glimpse of what the young gunslinger was capable of during the Jets' Week 1 17-16 loss to the Bills. Despite not feeling like himself against a stout Buffalo defense, Darnold completed 28-of-41 passes for 175 yards with one touchdown. And Loggains got a better view after the USC product came back from his illness and led the Green and White to a 24-22 victory over the Cowboys, connecting on 23-of-32 passes for 338 yards and two touchdowns with one interception.
One of Loggains' top priorities has been to continue to be a dependent, trusted voice for the developing leader.
"For us it was like, how can we streamline the information he's getting to where it's only going to be one voice," said Loggains. "Adam [Gase] and I are always going to be saying the same thing to Sam, and there aren't any other voices. It's a young player and we're trying to figure out what he does well, what he's comfortable with. Sometimes as a young player you don't know what you're comfortable with until you go do it and experience it."
Loggains isn't new to working with talented, young quarterbacks after having experience with QBs Johnny Manziel and Mitchell Trubisky. But Darnold is a different talent altogether, having already surpassed Manziel's accomplishments and looking to take a sophomore leap like so many signal-callers ⁠— including Trubisky ⁠— have taken in recent years.
Since returning from a foot injury in 2018, Darnold has made six starts and completed 66.2% of his passes for 240.7 yards per game and posted a 98. 5 passer rating. And even though there's still a lot unknown, Loggains' confidence in the Jets' QB1 is unshakable.
"The things that I know about Sam are: he loves football, he's a very genuine guy, he's an awesome teammate, incredible accuracy," Loggains said. "I think that he could be a really, really good player. He has the skill set, he's got the mental makeup that you look for. It's just how fast can we figure out what he does well, how fast can he take ownership in the offense. I hope the Dallas game was just a preview of what's going to come."