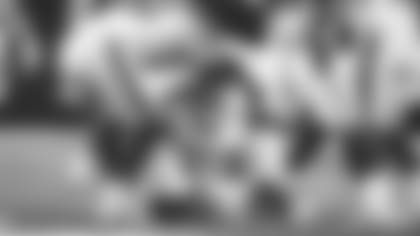 After rushing for 102 yards against the Cowboys and Patriots, the Jets bounced back with 108 yards on the ground and averaged 6.8 yards per carry in a 23-20 loss to the Chiefs. Despite the defeat, RT Alijah Vera-Tucker and the Jets were encouraged by the ground gains and are looking to carry the momentum into Week 5.
"Everyone in the building knows that it has been something we are working towards and to get it right," Vera-Tucker said. "And there were definitely some positives yesterday with Breece (Hall) running the ball and the other running backs as well. It is just the little details that we have to master. And we are definitely on our way to doing that. It should be opening up soon."
Against the Chiefs, Hall led the Jets with 56 yards on 6 attempts and averaged 9.3 yards per carry. The Jets' second-round selection in 2022 has averaged 6.6 yards per carry this season – third highest among players with at least 20 attempts.
In addition, rookie RG Joe Tippmann came on strong in his second career start and graded out as the team's best run blocker for the second consecutive week according to Pro Football Focus. Among all guards to play at least 120 snaps, Tippmann is the fourth highest-rated player.
"I think they have done a good job," head coach Robert Saleh said of the offensive line. "Run game-wise, when they finally backed off a bit and they gave us a bit more quarters, we were able to get some big runs. It looked good and it is getting better."
Looking ahead, the Jets will visit a Broncos club (1-3) Sunday that has allowed a league-high 704 yards on the ground and the third-most touchdown rushing touchdowns (7).
"I think that was a big motto for us going into this past week was to run the ball and even bigger now going into this week going to Denver," Vera-Tucker said. "The run game has to get going. We all know that and everyone in the building knows that. We are working towards it and to get it right. There were some positives."
Faster Starts
Despite holding the Patrick Mahomes and the Chiefs to 6 points over the final three quarters, Jets captain C.J. Mosley was disappointed by the defense's slow start. The Chiefs scored on their first three possessions Sunday night and jumped out to a 17-0 lead in the first quarter.
"For three quarters, I thought we played very well," said LB C.J. Mosley. "That first quarter, we wish we could've had a lot of plays back. We were just a little scrambled on defense, but we pushed through it."
The Jets defense has been spectacular in the second half. Dating back to Week 16 of 2022, the Jets have not allowed a second-half touchdown in seven straight games. That streak is tied for the longest of any team since 2000. However, Mosley said the unit needs to be better early on.
"We weathered the storm, and we got back to our style of football," Mosley said. "It was a fun game to be a part of. A lot of lessons to be learned from that game, Good, bad, and ugly. Build on from it, learn from my mistakes and get ready for a big game this weekend."
Rodgers' Return
Jets QB Aaron Rodgers was in attendance for Sunday night's game against the Chiefs. It was the four-time MVP's first time back at MetLife Stadium since he sustained a torn Achilles against the Bills in Week 1. Rodgers visited the team hotel on Saturday night and shared a motivational message and spent the game in a suite cheering on the Green & White.
"Yesterday was outstanding," Saleh said of Rodgers' appearance at the hotel. "To have him back and talk to the team. His teammates love him. We love him. He loves his teammates. Just glad he's back around the building. I've told you guys, he's an unbelievable human. He really is. His presence, it's like family, like big brother walked back in for those guys in the locker room."
QB Zach Wilson added: "He spoke to the team, and it was awesome because he shared the same message, I think we've been pushing. It's been a tough start to the year, and we need to stick together, and we absolutely are."
Take a look through some of the best photos from Sunday night's home game against the Kansas City Chiefs.