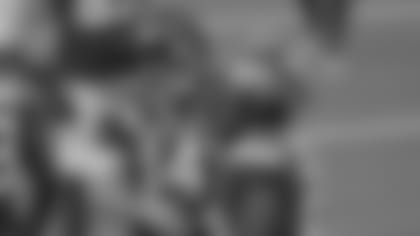 As much as he might have liked to stay behind on the West Coast and spend time with his family in California, QB Sam Darnold wouldn't (more likely couldn't) let his teammates fly home without him after Sunday's upset victory over the Los Angeles Rams.
"Everyone was super excited to get that win that we've been waiting for all year," Darnold told reporters during a conference call on Monday. "It was amazing to be able to get it. Just excitement. Everyone was super stoked in the locker room after the game and on the flight back."
Darnold and the Jets weathered a late Rams (9-5) push and then put together a final, game-ending drive that ran out the clock and gave the Jets (1-13) their first win of the 2020 NFL season.
"I think it was nice to be able to finish out the game," Darnold said. "We got a nice lead, they got back into it. On a couple of drives toward the end we had to punt a couple of times, but I thought the special teams and the defense held up great. It was awesome to be able to finish that out. Awesome to put a whole game together and play as consistently as we did the whole game."
Asked if he was ever as excited after a regular-season win, Darnold said: "No. It's a huge relief for a lot of the guys. There was a lot of emotion and excitement after the game and on the flight back as well."
Darnold was strong and steady against the Rams, and while his afternoon's stats were modest (22 of 31, 207 yards, 1 TD), he played a clean game and dumped the ball out of danger a few times. But largely the Jets' offensive line held the Rams' rampaging defensive front at bay, allowing only two sacks.
"I think he's [Darnold[ handled things as well as I would expect," Head Coach Adam Gase said. "He's been pretty steady, he doesn't talk much about anything other than what we're trying to do. He's not worrying about any outside noise and has done a good job. Last week [at Seattle] things didn't go right but he did some good things. This week he was as steady as we could have asked him to be. Guys made plays, were in the right spot and executed the way we needed to execute."
Gase added: "All the hard work they put in since training camp finally paid off. It took longer than we wanted it to. Nothing has gone right this year, we've been through a lot of adversity. We played a good team, did a lot of things right, there were a lot of good plays in the game. It's good to see them rewarded, there was excitement on the way home and it was fun to see. I don't think I've seen a group more excited after a game than what I saw last night."
Defense Stands Tall
The Jets' defense -- led by emerging DT Quinnen Williams -- played a pivotal role in holding the Rams to only 2 of 11 conversions (18%) on third down.
"We did a good job," Henry Anderson said. "[Interim defensive coordinator Frank] Bush put in a good third-down plan. We did some different things that we hadn't been running. It worked effectively and we knew if we could get [Rams QB Jared] Goff uncomfortable we'd be successful. We were able to get some pressure on him. Coach Bush had a good game plan and we did a good job executing it."
Before he left the game with a concussion, Williams was a one-man wrecking crew up front. He had a sack, increasing his season total to a team-leading seven, a QB hit and a TFL. His performance left his teammates -- Anderson and LB Neville Hewitt -- in awe of the second-year man from Alabama.
"I told him last night after watching film that if he didn't get hurt he was on his way to heaven," Hewitt said. "He had a career type of game. He's taking strides, he's improved big-time and will continue to get better and better. He's going to be elite in this league."
Anderson, one of the Jets' veterans, said that Williams never loses his focus, during practice or in games.
"He wants to be great," Anderson said. "He goes out to practice with that mentality every day, he's not just going through motions. He's out there trying to work on certain techniques and getting better. It's paid off and he's made a big jump like I expected he would. It's been fun to watch and he will continue to ascend with more experience."
Mann Saved the Day
Rookie punter Braden Mann came to the Jets from Texas A&M with an inclination to mix it up on the field when the opportunity presented itself.
That opportunity -- to make an open-field tackle -- presented itself at a pivotal moment in Sunday's 23-20 victory over the Rams in Inglewood, Calif.
It was a game-saving play.
The Jets were clinging to a precarious 3-point lead in the fourth quarter when Nsimba Webster fielded a Mann punt on the far sideline. He broke through the first wave of Jets would-be tacklers and seemed headed for the end zone.
"I was standing on the end that the returner was coming and there was a lot of green grass," Gase said.
But Mann, 23, a former linebacker in high school who was credited with 11 tackles on punt returns for the Aggies, stood his ground, lowered his body and launched it at Webster, taking him to the turf after the 34-yard return.
"That was an unbelievable tackle by him," Gase said.
So far this season, Mann has flashed a nose for the ball and has been credited with four tackles (vs. Denver, at Miami, at Kansas City and at the Rams) on punt returns. It's not something anyone would necessarily want to see (the inference being that the tackles are a result of a breakdown in coverage), but Mann has shown that at heart he's a football player.
"That returner was slippery, he split six guys, made it through and I reacted," Mann said after the game. "I got a little neck in there, but I'm good. Got evaluated. I'm all set." He added: "I was just trying to do my job. I was the 11th guy on that play."
After the return, the Rams took over with 5:33 left in the game and drove to the Jets' 37-yard line before QB Jared Goff had two passes fall incomplete, the final one -- on fourth down -- was broken up by S Marcus Maye. The Jets took over and ran out the clock to notch their first win of the 2020 NFL season.
"It was a game-saving tackle," Darnold said. "I can't say enough about this effort. Braden has made a couple of them this year."
Injury Update
The playing status of DT Quinnen Williams (concussion) and LB Harvey Langi (neck) is "up in the air," Head Coach Adam Gase said for the game against the Browns on Sunday at MetLife Stadium. ... Gase said that rookie RB La'Mical Perine would be ready for a week of full practice. ... The Jets are also awaiting an update on the status of Folorunso Fatukasi, who was in the COVID-19 protocol and missed the game against the Rams.