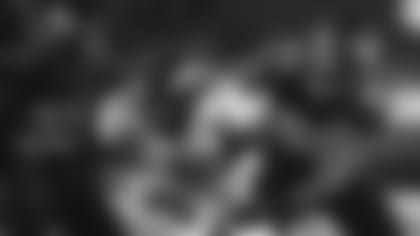 In a season unlike any other, the Jets had a "baggy day" -- the first morning after the end of a team's season -- unlike any other. It was virtual over Zoom and put on display the thoughtfulness and commitment of many players who just completed a disappointing 2-14 season.
And it was obvious as a half-dozen players took their turns on the call, that the initial questions would focus on the departure of Adam Gase as the team's coach on Sunday after the loss at New England.
To a man, the players acknowledged the obvious: It's a business and the preeminent measurement of success is winning.
"It was disappointing and I'm a little bummed, he's a great guy," C Connor McGovern said about Gase. "I spent a lot of time in his office talking. It really wasn't that surprising. It's part of the business, but it's tough to see it happen to a person I like, to see them move on. I've been around it quite a bit, I kind of know how it goes. You like him as a guy, but you understand."
McGovern's teammates who spoke -- LB Tarell Basham, OL George Fant, DL Folorunso Fatukasi and DL Quinnen Williams, and rookies OT Mekhi Becton and CB Bryce Hall -- shared those sentiments.
"Being in this league for a third year now, I understand it is part of the business," Fatukasi said. "But no one wishes someone to lose his job. It is a business. Coach Gase has been headstrong, doing his absolute best to make things better. For us, it's sad. But we have to move on to get ready for next year."
After hearing the news on Sunday night, Basham said that he "immediately reached out to him and reminded him he's a friend of mine and that I wish him the best."
And for rookies like Becton and Hall, the changing of coaches is their latest "Welcome to the NFL" moment.
"I think, from what people were saying, we kind of knew there would be a change coming," Hall said. "It's unfortunate. You never want to see someone lose their job. I know how much coaches sacrifice and the time they put in so it's tough to see this. I'm optimistic. I trust the guys upstairs to do what's best for the program."
Meeting With Christopher Johnson and Joe Douglas
Those guys upstairs -- Chairman and CEO Christopher Johnson and General Manager Joe Douglas -- met with the players at the Atlantic Health Jets Training Center on Monday morning before the start of the virtual meetings.
"I think that it's in their minds to get this ship fully turned right away," McGovern said. "As I've said before, they're working on turning it around and their goal for a new head coach is to get the right guy to come in and lead the team and develop a young team. A young team is easy to mold and turn into the team you want it to be. It's a great, ideal spot for a head coach because the young guys are easy to turn into what they want.
"A new head coach with a veteran team is kind of hard to change. With how young we are and the [draft] picks, this is going to be a very moldable team, a great stop for any coach who will have a lot of control and be able to implement his system fairly easily. A young team is more likely to buy into a new system. We're going to have a pretty damn good team and have the ability to grow."
It is no secret that the Jets have two first-round picks this year (their own at No,. 2 and Seattle's, which is to be determined), five selections in the first three rounds in all. The Jets also have two first-round picks in 2022. That draft capital is augmented by about $70 million in salary cap space.
"They said that they do understand the kind of season wasn't to their expectations and that they are looking, ultimately, to bring a championship here," Hall said. "And they said they will do everything possible to achieve those goals. What they communicated was how much they appreciate how we stuck together and fought. They let us know they will put us in the best position to bring a championship here."
What is impressive, and necessary, is the way the players are able to acknowledge the depths of a difficult season, but quickly turn their gaze to the future, working in the offseason to prepare individually for the 2021 NFL season.
"Leaving the meeting I really felt confident in next season," Fant said. "We need a great leader, someone who will come in everyday and really connect with the guys, get guys to grow. We have a lot of good pieces here now and I'm excited for the young guys. We need to get guys on the right track, develop the young guys and we will be ready to go."
Fatukasi said: "For me all of this, what's done is done. Now I'm looking toward the future and whoever they bring in to have everyone's best interest in mind. I'm all in for whatever and whoever comes in, I'm not really too concerned. At the end of the day I'm going onto the field."
Williams, who missed the season finale because of concussion, said that he stood up in the meeting and voiced his opinion, looking ahead to his third season in the NFL after leading the defense with 7 sacks and showing e promise.
"I want to be looked at as a leading on the defense, and I voiced my opinion," Williams said. "I'm here to be a leader for the defense and a person who can set an example." He added: "I'll play football for whoever they bring in here. I'll play my heart out for that guy."
Commitment to Changing Team Culture
In the NFL, that desired culture is about winning, and winning consistently over the years.
"Once the losing bug gets ahold of a place it's hard to get that out," McGovern said. "Culture is everything. Culture beats talent every day of the week. When you look back at dynasties, what makes them great? They all have players, but at the end of the day it is really culture that wins most of the games."
Fant, who came to the Jets after three seasons in Seattle, acknowledged that each coach, each team develops its own culture.
"In Seattle, Pete [Carroll] comes to work with excitement and makes it feel like you're not at work," Fant said. "Having fun playing football, bonding with your teammates. It's something that depends on who it is, that's the big thing. They have to bring it everyday and guys have to buy in."
For McGovern, the concept of team culture means more than simply the 50-plus men on the roster. It has to encompass the entire organization in every phase.
"One thing I love about being here is the fact that it is a pretty egoless place," McGovern said. "Winning and family is utmost, it is what drives them and it is something special.
"You want to be part of an organization that's a family, that has your back and that you believe is going to go to bat for you. That's what Joe and Christopher are building. What I want in the new coach, for my take, is a CEO kind of guy who can manage the whole team. A guy that's going to be a great leader and change the culture. I think every owner would say that but I think they mean it here."