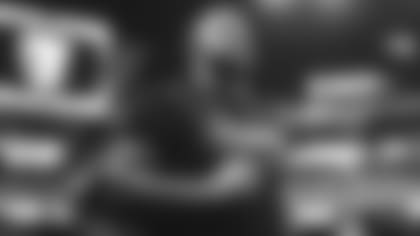 HC Robert Saleh told reporters Monday the Jets would "lean on" veteran T Duane Brown in practice this week to see if he could be available for their Week 12 game against Miami at MetLife Stadium in the NFL's first game on Black Friday.
"Not lean on him from a pressure standpoint, but we are going to try and get him some more physical contact to see how he feels," Saleh said. "And then we will see if he feels like he can get out there."
Brown started the first two games of the season at LT after he had left rotator cuff surgery in the offseason. In Week 3, he was placed on injured reserve with hip and shoulder injuries. He returned to practice in Week 9 (Nov. 2) to begin his 21-day window to be activated from list. The Jets have until Thursday to add Brown to the active roster.
In addition, T Mekhi Becton, who played at RT the first two weeks and had taken over for Brown at LT since Week 2, exited Sunday's32-6, loss to the Bills with an ankle injury after he sustained an ankle injury in the first quarter, and did not return. On Monday, Saleh said he would know more on Tuesday.
Counterpunch by Bills' Pass Attack
In the Bills' victory on Sunday, QB Josh Allen and the Buffalo pass attack used motion and the intermediate portion of the field against the Jets' elite secondary. It was an adjustment by the Bills offense after Allen struggled in the Week 1 against the Jets throwing for 236 yards, 1 TD and 3 interceptions.
In the season opener, Allen attempted to stretch the field vertically with a series of long balls, but three were picked by S Jordan Whitehead. On Sunday, Allen limited his down-field throws and was able to dissect the Jets defense for 275 yards, 3 touchdowns and 1 interception by S Ashtyn Davis on Hail Mary attempt at the end of the first half.
"I think honestly that their gameplan was to not take shots," CB D.J. Reed said. "Josh threw three picks to Jordan on Monday night [Sept. 11], so I didn't think they were going to throw deep because two of the interceptions he threw Whitehead was covering the post. And so, I didn't think they were going to play that type of game and I thought they would throw more intermediate routes and that is what they did especially in the first half.
"I feel like for the most part they were trying to keep the gameplan simple for Josh. They kept it really simple for him not throwing deep balls, just trying to control the game."
The Jets defense still managed to hold All-Pro WR Stefon Diggs to 4 receptions on 8 targets for 27 yards. However, Allen completed 2 TD passes to running backs, including a 5-yard pass to James Cook and a 28-yard throw to Ty Johnson.
On both plays, the Bills used motion and a mesh concept, in which they crate picks, rubs and traffic for defenders to sift through, to spring the receivers.
"It is a copycat league, and they ran the same thing earlier and then ran it again and it worked," Reed said. "We just need to diagnose and know what they are trying to do and get on the different levels. I think that is the most important thing when teams run mesh, we can't be on the same level, or they are going to pick you and they don't call those. We have to sort it out."
Words Exchanged Postgame
After the final whistle of the Jets' 32-6 loss to the Bills on Sunday, as the both teams exited the field through a tunnel that leads to both locker rooms, DL Michael Clemons and Bills OT Dion Dawkins exchanged words.
Several other players yapped at one another and traded a few chest bumps, but as they traveled up the exit ramp, no punches were thrown. Jets captain C.J. Mosley, CB Sauce Gardner, Bills DL Ed Oliver and others helped separate their teammates and calm tensions.
"As far as the stuff in the tunnel," Mosley said. "I was just coming in and making sure that nobody threw any punches, that was my main concern, that I had to get my guys out of the way. We understood the situation, everybody was frustrated and mad but at the end of the day we grow, and we do have a job to do as professionals. We can argue and do a little pushing, but I was just making sure nobody was about to throw any punches."
The shouting match stemmed from a moment in the fourth quarter when Dawkins received a personal foul penalty after driving Clemons into the group after the play was blown dead.