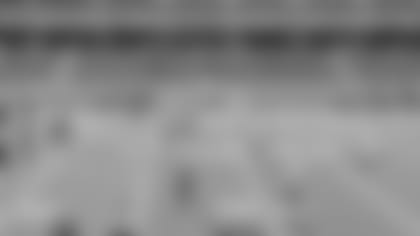 With one game -- the Super Bowl -- to go in the NFL's 2020 campaign, a season of uncertainty will yield to a different kind of offseason that is still in the throes of the coronavirus pandemic.
For aspiring college players, gone is the annual right of passage, the NFL Combine in Indianapolis, which has been canceled. That makes this week's 2021 Reese's Senior Bowl in Mobile, Ala., the marquee event for the 32 NFL teams and 145 of the college game's top players.
If everything was different in 2020, in a new year and a new offseason, the football world is still rolling with the punches and adjusting on the fly.
Senior Bowl practices on Tuesday, Wednesday and Thursday are some of the few times NFL scouts can get (relatively) up close and personal with prospects. Each NFL team is permitted to take only 10 representatives (front office, coaches and scouts) to the game. And while nearly all interactions to date have been virtual, teams will be permitted to conduct one-on-one interviews, albeit with sheets of plexiglass separating the participants.
"It's a huge challenge for evaluators all over the league," said Bucky Brooks, an NFL Network analyst. "The Combine process is out. We haven't seen them all play the same amount of games, some opted out. It [Senior Bowl Week] is a chance to remind ourselves of some of top prospects in this game."
Some of the individual players (Michigan WR Nico Collins, for example) in Mobile opted out of the college season in the face of the pandemic, while some of the teams also sat out or played a limited number of games, leaving no recognizable blueprint for players' path to April's NFL Draft.
For example, Washington defensive lineman Levi Onwuzurike has not played in a game in more than 400 days and will have a few days of practice and the game to show what he can do in pads after the long hiatus. He will be judged by many on his performance throughout the week and not have the Combine to fall back on (though he and others could benefit down the road from Pro Days in March).
Also consider that Alabama quarterback Mac Jones, who was not planning to play in the Senior Bowl, changed his mind probably because some of the most-talked about QBs (Trevor Lawrence, Justin Fields and Zac Wilson, for example) in the draft will not be playing in Mobile. And without the Combine, the Senior Bowl will give players like Jones an important window to garner attention. Jones' Alabama teammate, running back Najee Harris, too, after initially saying he would not participate in the Senior Bowl, changed his mind.
"I told Mac that this year [Trey] Lance, [Justin] Fields and [Zac] Wilson are not hear and everyone else is jockeying for position behind [Trevor] Lawrence," Jim Nagy, the game's executive director, said. "It's a chance to jump those guys who are not here in Mobile. Being here in front of 32 teams is a chance those guys don't get. Mac is fired up to compete."
With the No. 2 overall pick and the No. 23 selection (from Seattle) and five picks in the first three rounds, the Jets are in an advantageous position, regardless of what they ultimately decide to do.
"It just goes back to criteria you're projecting in the draft of how a college player will do on the pro level," Jets GM Joe Douglas said. "It's not always an easy thing to do. There's always different things, you can say there are positives here, negatives there. It goes back to the criteria each team sets. We really talk about the best criteria for the New York Jets."
Putting the Jets' Offense in Motion
Head Coach Robert Saleh comes to the Jets with a deserved reputation as a teacher of the defense. That, however, is not to suggest that his approach to the offense is anything less than total commitment -- on both sides of the ball.
To implement those notions, Saleh has brought along the 49ers' offensive coordinator, Mike Lafleur, whom he believes will add some wrinkles to the active offense that springs from the mind of San Fran HC Kyle Shanahan.
"Mike can take Kyle's offense and make it better without disrupting the flow and fundamentals behind the scheme," Saleh said during one of last week's press conferences. "No one in the world knows it better than he does."
One of the primary features of Lafleur's and Shanahan's 49ers offense has been a focus on shifts and motion in an effort to smoke out and keep opposing defenses off balance while also allowing the quarterback to more easily and quickly identify coverages.
"It's a stressor," Green Bay QB Aaron Rodgers told Madison.com. "It's a stressor on gap assignment, it's a stressor on pre-snap eye discipline. That's what this offense has done. We saw it when Kyle's running it in Atlanta and Sean [McVay] in L.A."
In the 2020 regular season, according to Next Gen Stats, the 49ers led the league in shift/motion snaps, employing them on nearly 74% of the team's 1,036 offensive snaps. Baltimore was next, using movement on about 70% of its snaps. In fact, the 49ers led the league the past three regular seasons, running 70% of plays with shift/motion in 2018 and 77% in 2019. San Francisco managed to score 29 TDs on plays with motion/shifts, but Rodgers and Green Bay led the league with 45 TDs from 965 total plays, 577 with motion/shifts (60%).