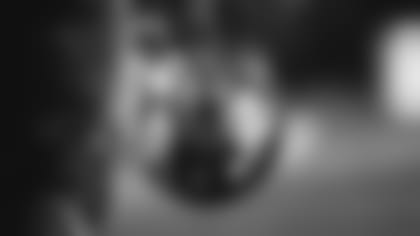 The time for all the fun talk outside the NFL is over. The time for all the serious talk inside all team headquarters begins.
The Jets and the NFL can begin negotiating with unrestricted free agents Monday.
Today through Wednesday, clubs are allowed to contact and to enter into contract negotiations with the certified agents of players who will become UFAs upon the expiration of their 2020 player contracts. No contracts can be signed until the start of the new league year at 4 p.m. ET on Wednesday, when the NFL waves the green flag (no, not in honor of the Jets) and the free agency signing period finally motors to life.
Head coach Robert Saleh last week described the preparation that he, general manager Joe Douglas and the Jets have been taking while waiting for this day and this week to arrive.
"Free agency and the meetings that we had were unbelievable," Saleh said. "We got a lot accomplished over the course of that week. We're going to continue to do that. There's the old saying, 'If you want to go fast, go alone. If you want to go far, go together.' I think Joe believes that, and he's been practicing and preaching that since the day we walked into this building."
Like everything else recently, COVID-19 has had an effect on this year's NFL offseason. Regarding free agency, perhaps the biggest impact has been in the salary cap. Cap limits had risen every year since 2011 along with league revenues. But the COVID pandemic resulted in reduced revenues in 2020 and to a drop in the salary cap, announced last week, to $182.5 million. Last year it was $198.2 million.
When the new league year arrives Wednesday, all teams must be at or under the cap, and due to the lowered figure, teams are expected to release a large number of players into the street free agency market to either get under the cap or create space to sign unrestricted as well as restricted free agents.
Also in advance of the start of UFA, franchise player designations were announced last week for the UFA signing period. Each club can designate one "franchise" player or one "transition" player among its veteran free agents.
Ten teams did that, including the Jets, who tagged safety Marcus Maye as a non-exclusive franchise player, using their franchise tag for the first time since 2016 (Muhammad Wilkerson) and for only the fifth time since 2006.
With unrestricted free agency set to begin and more street free agents than usual on the market, all teams are revving up, while continuing to sign their own UFA candidates, to add new veterans to their rosters. In the Jets' case, Saleh will be eager to welcome new players aboard to help him, his staff and all holdover players to implement new schemes on offense and defense and to assist in instilling a new culture on the Green & White.
Underlying it all will be a renewed sense of effectively exchanging ideas in all areas of the Atlantic Health Jets Training Center.
"Joe's made it very clear that he wants collaborative communication," Saleh said. "He wants us to be all in this together, scouts, coaching staff, everybody within the organization speaking the same language and having a great amount of communication with regards to everything that happens in this building."