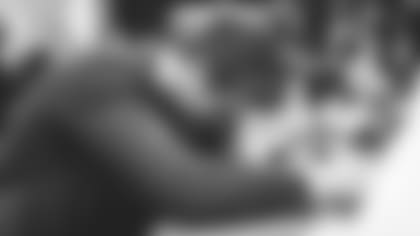 Even with the drafting of QB Sam Darnold two years ago, the Jets remained on the defensive at the top of their last decade of drafts.
When the Green & White selected DL Quinnen Williams with the third overall pick last year, it was the 10th defensive player taken in their last 11 drafts dating to 2010. That includes all first-round picks, not only top picks, and of course the Jets took two defenders in the 2013 draft, CB Dee Milliner ninth and DT Sheldon Richardson 13th.
That streak started the year after they traded up to grab QB Mark Sanchez in the 2009 draft. The last offensive player other than a QB that they drafted in Round 1 was TE Dustin Keller out of Purdue in 2008, but he was their second pick that year, 30th overall (and a tradeup), after they went with Vernon Gholston of Ohio State at No. 6. And the last offensive player other than QB that they made their top pick was the Brick & Nick draft of 2006, when they went with T D'Brickashaw Ferguson at No. 4 overall and C Nick Mangold at No. 29.
Which way will Joe Douglas go in his first draft as Jets general manager, which is also his first draft as an NFL GM? The Jets' biggest needs have been well-articulated by Jets and national reporters lately and fall pretty evenly on both sides of the line of scrimmage: line and wideout on offense, edge rusher and cornerback on defense.
How about any predilections that Douglas may have shown? Well, in speaking to Jets reporters in February, he said, "Look, you guys know how I feel about the offensive line. It's hard to have a good team without one." And being an All-State O-lineman in high school and an All-Atlantic 10 OL at Richmond, that's understandable.
But in the next sentence, Douglas then noted, "We're at 21 UFAs and three RFAs so we have to improve not only the offensive line but many other positions." And he's on record saying, "We're looking for the best player for the New York Jets," which philosophically sounds a lot like "best available athlete."
Perhaps a tipoff from Douglas' 20 seasons on his way to GM? That would entail 15 years as a Baltimore scout, one as Chicago's director of college scouting and four as Philadelphia's vice president of player personnel. He wasn't making the final calls in any of those drafts, but his influence on his general managers and the GMs' influence on him might tell us which positions he favors in drafting.
As it turns out, Douglas' teams from 2000-19 made 18 first-round choices, 11 on offense and seven on defense. Broken down further, his teams have selected three players in the first round at four different positions — quarterback, wideout, O-line and D-back.
(Coincidentally, he along with Ozzie Newsome have been connected with a number of strong Ravens picks over the years, such as RB Jamal Lewis, TE Todd Heap, S Ed Reed , LB Terrell Suggs, DT Haloti Ngata, G Ben Grubbs and LB C.J. Mosley — Pro Bowlers all.)
What it comes down to is that Douglas as a GM is virtually a blank slate when it comes to any positions he favors above all others in Round 1. But we'll soon know Joe D's position when he, with his Jets personnel team, makes his first selection as a GM next week.
Here is a summary of the players drafted most recently by the Jets at each position, according to the position each player was listed at when he entered the draft, along with their Jets and NFL games played (*Pro Bowl with Washington, all other Pro Bowls with Jets):
Table inside Article

| Pos | Player | Draft | Jets GP | NFL GP | NFL PB |
| --- | --- | --- | --- | --- | --- |
| QB | Sam Darnold | 2018 | 26 | 26 | 0 |
| RB | Blair Thomas | 1990 | 51 | 64 | 0 |
| FB | Tom Nowatzke | 1965 | 0 | 96 | 0 |
| WR | Santana Moss | 2001 | 51 | 146 | 1* |
| TE | Dustin Keller | 2008 | 72 | 72 | 0 |
| T | D'Brickashaw Ferguson | 2006 | 160 | 160 | 3 |
| G | Paul Seiler | 1967 | 13 | 39 | 0 |
| C | Nick Mangold | 2006 | 164 | 164 | 7 |
| DT | Quinnen Williams | 2019 | 13 | 13 | 0 |
| DE | Leonard Williams | 2015 | 71 | 79 | 1 |
| LB | Darron Lee | 2016 | 40 | 56 | 0 |
| CB | Dee Milliner | 2013 | 21 | 21 | 0 |
| S | Jamal Adams | 2017 | 46 | 46 | 2 |