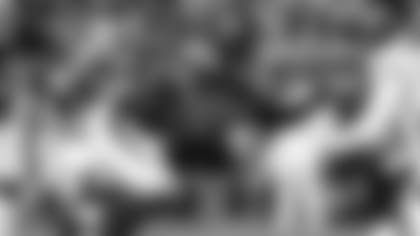 A lot of players love the game of football, but few as much as Jets' rookie defensive lineman Micheal Clemons. He lives it.
So much so, that during his first NFL training camp, his teammates gifted him the nickname Deebo, after a character from the movie "Friday," because of Clemons' serious and determined demeanor. But Clemons has been so focused that when a reporter asked about the moniker on Thursday, he said that he hadn't heard about it.
"He's earning the nickname Deebo," HC Robert Saleh said. "Everybody loves him in the building. He's very serious."
Clemons' response: "I am not going to lie to you, I do not pay attention to it. I just show up and go to work. If teammates want to call me Deebo, then they call me Deebo. I am just here to work, that is it."
The Green & White selected Clemons, who will turn 25 on Sunday, with the 117th (fourth Round) of April's NFL Draft. And while his love for the game appealed to the Jets, when he first began playing at a high-level, the game did not love him back.
Clemons spent his first collegiate season at Cisco (TX) College, the alma mater of former NFL players Wayne Coffey, John Davis and James Dixon. In six games during his only season, Clemons recorded 30 tackles, 8.5 tackles for loss and 2.5 sacks. He eventually transferred to Texas A&M where he endured a string of season-ending injuries.
First, he sustained a foot injury during preseason training camp going into his junior season. He elected to use a medical redshirt and then sustained a season ending-injury in the fifth game of his redshirt senior season.
But Clemons had committed his life to the game and was determined to make it work.
He used the extra year of eligibility granted to college athletes due to the coronavirus pandemic for a fifth season with the Aggies. He produced a career-season with 32 tackles, 11 tackles for loss, 7 sacks and 46 pressures, tied for ninth most among all Power Five edge defenders in the 2022 draft.
In his first preseason game, Clemons had success against the Eagles' offensive line accumulating 4 tackles, 1 sack and 7 pressures in the 24-21 win.
"All the stuff that he stands for, it showed up on game day," DC Jeff Ulbrich said. "His strain, his violence, his toughness, his physicality, his strength, all of it."
But Clemons was neutral about his performance. When asked if he was pleased, he put it simply: "I wasn't."
"As a player, I have a lot to work on," Clemons added. "I try to show up every single day come out here and get a little bit better. It is a credit to my coaches and my teammates for helping me out since I have been here and putting me in the best position to be successful. But nowhere near where I need to be."
Ulbrich said: "He's obsessed with this game. I know we talk about that a lot, and we have a lot of guys that fit that bill and check that box from our roster, but he goes to another space. His obsession and his love for this game is as good as I've ever seen, been around, and because of that, he's going to find a way to be successful in this league."
During practice Ulbrich has played him at defensive tackle and defensive end. A first for him.
"He's got a long way to go, but he's got physical tools," Ulbrich said. "He is long, he's fast, he's explosive, and then he's got the mindset, the obsession to learn the game and fine-tune all the little details."
Clemons said: "It is nothing I can't handle. It is an adjustment for sure, but it isn't too bad."
The biggest difference for Clemons during the transition from college to the NFL. has been the increased mental strain. That is where he has asked for help. Clemons reached out to the team's veteran defensive lineman for help, specifically veteran DE Carl Lawson.
"Since I've been here, I've been blessed to be in a room with guys that have been passing on all the information that they've had since they have been in the league," Clemons said. "So, me just coming in, they are giving me all the information that I can use to go out to help my team, and myself so I'm grateful for that."
Lawson said: "Mike [Clemons], I love big Mike. He comes in and asks questions. I love the way and how strong he plays. He can play inside and out he is learning how to balance the timing of the game. Mike is a guy who can dominate, for sure."