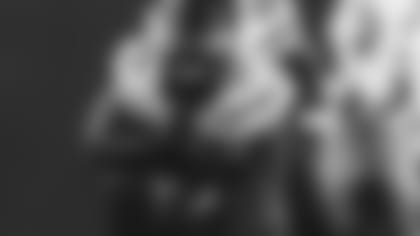 When he was asked about playing against some of the premier and "elite" defensive linemen and rushing linebackers, including Buffalo's Von Miller, Jets OL Mekhi Becton shot back with an emphatic answer.
"Hey, I'm elite as well," he said on Wednesday. "That's what I do."
Indeed, that's what Becton has done for the Green & White this season after a couple of seasons marred by injuries. Through nine games so far, with the Jets (4-5) traveling to Western New York to face the Bills (5-5) in a crucial AFC East game, Becton has taken 557 snaps or 99% of the plays on offense.
"Knock on wood, he is doing a great job," head coach Robert Saleh said this week. "Mekhi has done a really nice job. I know he's battling through some things and he's battling through, working with us, too, and just making sure that we take care of him in terms of the maintenance overall, but he's grinding. He's doing everything and more to prepare himself to play on Sundays and he's doing a nice job. He's playing at a high level and we're fortunate that he's finding his stride."
Of course, it's of interest that Becton has been "finding his stride" at left tackle after starting the season at right tackle as the veteran Duane Brown claimed his career-long spot on the left. But Brown has only played in two games because of injury (hip and shoulder). What happens along the Jets' O-line when Brown is ready to return is up in the air and will most likely fall under Saleh's mantra of playing the "best five" as the team continues to shuffle things up front. To start the season, Becton played the good soldier and did "what's best for the team," he said, by flipping to the right side.
Miller (who has played in 6 games because of injuries) isn't the only threat to rush QB Zach Wilson and mess with the Jets' run game. DEs Leonard Floyd (7), A.J. Epenesa (6.5) and Greg Rousseau (4) have combined for 17.5 sacks; with DT Ed Oliver adding 5. Still, the Bills' defense has yielded a middling 115.2 yards a game on the ground and 215.4 yards passing a game. Buffalo has also allowed opponents to convert 41.8% of the time on third downs, which offers the Jets' struggling third-down offense some solace.
"We have got to convert on third down," Becton said. "We have to look in the mirror and take accountability." He added: "I feel like we're real close, buy one little thing [inconvenient penalties] mess it up here and there. We have to stop it, can't keep having it."
Earlier this week, during his spot on "The Pat McAfee Show," injured QB Aaron Rodgers was asked about the O-line and the team's struggles on third down (last in the league at 25%) and took a detour to praise Becton's play.
"I love Mekhi," Rodgers said. "He's been the most consistent lineman this year. He's been incredible. When we're moving the ball, trying to convert on third, it's not been just one culprit. There's enough blame to go around. We got to play more consistently in every facet."
According to Pro Football Focus, Becton has a 59.3 overall rating, has committed 8 penalties and allowed 6 sacks.
After the loss to Las Vegas, 16-12, last Sunday night, the Jets returned home and once back at training, the offense took the opportunity to have a players-only meeting.
"It was good," Becton said. "We definitely needed it. We have to take accountability instead of finger pointing. Everyone has to do their 1/11th."
Asked if the Jets' 8 penalties for 83 yards against the Raiders, several that torpedoed drives, are merely part of the game, Becton said: "I wouldn't say it's part of the game, mostly dumb penalties. We have to tie into the details and do things right."