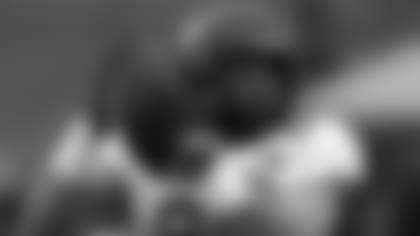 Nobody could argue that Trevon Wesco took the most direct route to the New York Jets. After attending tiny Lackawanna College in Scranton, PA, the tight end transferred to West Virginia and caught two passes over his first two seasons in Morgantown. But always known for his physicality, Wesco experienced a bit of a receiving breakout as a senior with 26 catches and 366 receiving yards.
On Saturday, Jets fans went searching for information when the Green & White finally got their Day 3 underway with the pick of Wesco following a pair of trade-downs in the fourth round.
"I had a feeling here and there, but you just don't know what's going to happen in the draft," Wesco told Ethan Greenberg moments after being drafted. "I really had no clue what would happen."
The 6'3", 267-pound Wesco is viewed as a refined blocker who has room to grow as a pass catcher. He averaged a healthy 13.3 yards per catch at WVU with most of his opportunities coming on short routes.
"I feel like my strengths are definitely in my blocking. I feel like I'm a physical player, a tough presence," he said. "One thing I'd probably have to work on is my receiving and some of my routes because I didn't do a lot of deep routes at West Virginia, but I feel like proved myself at my pro day that I can run deep routes if they're given to me."
A year after getting great value with the addition of Miami's Chris Herndon in Round 4, the Jets went back to the tight end position in the same round. Nineteen years ago, the Jets found a tight end from West Virginia in the first round when Anthony Becht become the final piece of "The Four Aces" in a historical 2000 draft.
"I met Anthony a couple times, he's one of the greats at West Virginia and he played my position. He was one of the first tight ends taken out of West Virginia," Wesco said. "It's been a long stretch since one of the tight ends were taken in the draft. It's pretty crazy how it all worked out, and he played for the Jets. Now I'm a Jet. It's pretty crazy."
NFL Network's Brian Baldinger was among many pundits who praised the pick on Twitter. He referred to Wesco as "Baby Gronk," "the Quenton Nelson of tight ends blocking," and added that head coach Adam Gase's offensive playbook would grow by 25%.
"I wouldn't go that far yet, but I just feel like I'm a versatile player," Wesco said of the comparisons to the future Hall of Famer who just called it quits in New England. "I can do many things and I feel like I'm a dominant blocker."
The Jets now have six tight ends on the roster. Wesco will compete immediately as in-line tight end and it's possible he could be used in a fullback role as well.
"Obviously I like to catch touchdowns, but I definitely do take a lot of pride in my blocking. I just do whatever it takes to win ballgames," he said. "That's what I'm about. I'm about winning ballgames, helping the team in any way I can."