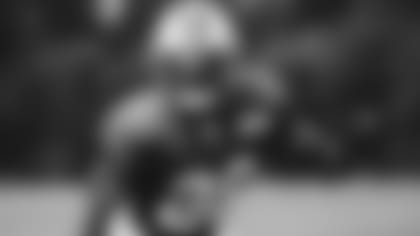 Martin and Lewis. Simon and Garfunkel. Bieber and Gomez.
Reunited and it feels so good.
"I'm looking forward to getting back out there," Jets S Marcus Maye said today about his first practice in a while, adding that he's optimistic of seeing his first action of the season Sunday at Jacksonville. "I feel pretty good. ... I'm just waiting on Coach Bowles and the training staff, see what happens in a couple of days."
Jamal Adams, Maye's precocious partner in deep middle mayhem all last season until Maye hurt his ankle in the season finale at New England and then was up but mostly down since the summer with additional injuries, is happy to hear it.
"It would be huge," Adams said. "Ah, man, that's my boy back there. We're a one-two punch and we understand each other when we're in the back end. We feed off each other as far as energy. Just to have him back out there, when that comes, it's definitely going to be a fun time for me."
"We talk about it all the time," Maye said of a, well, reunion in the Jets' secondary.
Head coach Todd Bowles has the final say, of course, and all he allowed at today's news conference was that Maye and LB Josh Martin, still not out of the concussion protocol, were "limited" at today's practice after both had sat out all practices since the regular season began. "We'll see what they do later in the week."
Maye rehabbed last year's injury through the offseason. He slowly worked his way back into action, then a new ankle/foot situation arose. He gave it a "test run" of almost 40 plays against the Giants in August but has been working to get back on the field since.
"It's pretty frustrating, just sitting on the sideline watching. Nobody likes that," Maye said. "Trying to be out there with the guys and knowing you can help out but can't, it's definitely frustrating."
In his absence, second-year S Doug Middleton has gotten the starts and has notched 21 tackles, third on the defense and tops in the secondary. Terrence Brooks and J.J. Wilcox played through the summer and Wilcox got 17 defensive snaps in the last three games. Adams dished the praise to all his safety mates.
"But when that time comes, we'll be prepared to have him back out there," Jamal said. "Marcus is a playmaker, man. He believes in himself. He believes he's one of the best if not the best."
Maye gave a laugh when asked if Adams, his hyperdrive partner, has been more or less patient with him these past several weeks.
"We talk about it all the time. But Jamal has been doing a great job, he's been making a ton of plays," Maye said. "And the guys have been doing a great job communicating and just doing the best they can. Like I said, once I get back out there, I'm just looking to jump in and catch on with the wave. That's what I'm looking forward to."
It's not a done deal for Sunday. But Adams and Maye appear close to a reunion in the near future.
Top Photos from a Steamy Wednesday at 1 Jets Drive