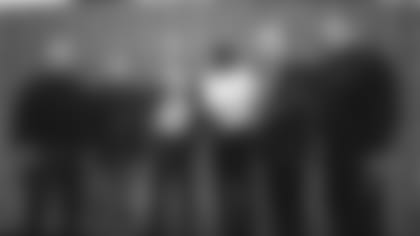 Before and after Adam Gase was introduced as the Jets' new head coach on Monday, we heard from a number of current players on the transition.
But how about the Legends, the Jets alums who have made their marks in franchise history and left deep impressions on Green & White fans? Well, a number of them were in attendance for Gase's introductory news conference, and all gave good grades for the hiring of Gase by owner Christopher Johnson, general manager Mike Maccagnan and the organization.
"From what I've seen, I like what Coach Gase stands for," said Erik Coleman, the Jets' starting safety from 2004-07 and now an analyst on several New York media platforms. "He's a disciplinarian, a hard-nosed coach, but that can relate to the players, and I think that's important.
"And obviously the fact that he's an offensive-minded coach helps out with the young quarterback, Sam Darnold. To have an offensive mind that specializes in developing quarterbacks is going to be a strength of this team. You look at the playoffs now, you see nothing but proficient quarterbacks, guys who are throwing a lot of touchdowns. Once Darnold gets to that point, that's when you start talking about the Super Bowl. It's an exciting move."
Wayne Chrebet, the Jets' prolific wide receiver from 1995-2006 and Ring of Honor member, echoed EC's sentiments on Gase's pedigree.
"We haven't had an offensive head coach in 20 years," Chrebet said. "You had to go in that direction based on the young quarterback. The last four teams in the playoffs have the top four offenses in the league. You've got to have that kind of offense. Hopefully this is the guy that can bring Sam to the next level. And you've got to have faith in Mike [Maccagnan] and Adam. They're really only a couple of players away.
"Adam's done some good things in his career. I don't know why some people are not on board with it. But I take it that the guy's got a fresh start and I think the future is promising."
Then it was great to share a table with Marty Lyons and Joe Klecko. Both were members of the New York Sack Exchange in the early Eighties, both are now Ring of Honor members. Both said they didn't know a lot about Gase personally but what they've heard, they like.
"One thing I know is he has a history of being a great quarterbacks guru," Klecko said. "Sam Darnold's a brand-new guy and having someone that's going to call the plays for you who's also your coach, I think that means a lot. I just hope he chooses a defensive coordinator who has some grass under his feet. I truly believe defensive coordinator is more of an experience thing while on offense you've got to have a synergy with the quarterback."
More on the Klecko and Lyons on new defensive coordinator Gregg Williams on Friday. Meanwhile, Lyons said the Gase hiring is "a good opportunity to bring in new energy. I really did have a lot of respect for Todd [Bowles] and whatever happened here, it just didn't work out. I'm happy he did get the coordinator's job with Tampa Bay.
"But for the Jets' fans and players, they need a new sense of energy, a new set of rules, a new set of guidelines. Some people weren't endorsing him because maybe his rules were a little too strict or his personality was a little too strong. But I think you need a strong personality as a head coach, and hopefully he's the one."