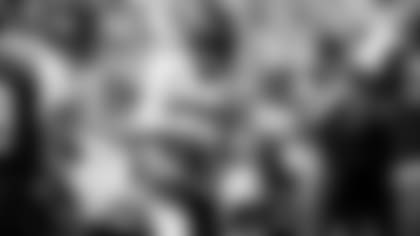 It's the week of practice before the second preseason game. The Jets' offense and defense were a little tense in today's session, with small skirmishes and lots of trash talk breaking out.
You can feel the urgency for the season ahead slowly rising. And you can also sense it with the reporters and fans when it comes to RB Le'Veon Bell: Will he play in a preseason game?
Let it be said, though, that two people whose opinions count most are not that concerned about seeing Bell crank it up before the regular-season opener in less than a month against the Bills.
"I want to do whatever Coach Gase wants me to do," Bell said after practice. "If he asks me to play, I'm going to go out there and play. If he tells me not to, tells me to rest, I'm going to do that. ... I'm going to do whatever's best for my team."
"If he feels like 'I need to get a series, I need to get some snaps I need to get some carries, I need to get some routes,' then we'll do that," head coach Adam Gase said. "If he feels good where he's at, then maybe he doesn't play this preseason."
The questions have taken on importance because of the road Bell has traveled to come to the Jets. Most NFL tailbacks these days play little if any in the preseason. Bell played in one summer game for Pittsburgh in 2016, none in '17, and he went on to enjoy two of his most productive pro seasons. Here are some Bell preseason game numbers with the Steelers from 2013-17:
Table inside Article

| Season | Games | OffPlays | Rushes | Recs | Touches |
| --- | --- | --- | --- | --- | --- |
| 2013 | 1 | 5 | 4 | 0 | 4 |
| 2014 | 4 | 48 | 18 | 2 | 20 |
| 2015 | 3 | 32 | 10 | 3 | 13 |
| 2016 | 1 | 20 | 3 | 5 | 8 |
| 2017 | 0 | 0 | 0 | 0 | 0 |
Then of course Bell had no reps last year when he sat out the season. And there's the rub for many, who just have a feeling that a couple of plays Thursday at Atlanta or a week from Saturday vs. New Orleans would do a body good. Even No. 26 admitted as much.
"I can't wait. I was watching the first preseason game, just itching," Bell said of his sideline position for the Giants opener, adding of game action, "I haven't really felt it in like 15, 16, 17 months — I don't know how long it's been."
But as Bell also said, he's been playing the game for so long, he only needs a couple of plays to snap into game mode. And he's getting a lot of that in the increasingly intense practices at the Atlantic Health Training Center.
"The defense was hitting a little bit today," he said. "They gave me a couple of hits, some live-game reps, I hit the ground a couple of times. It felt good. Some nice pops."
"I don't know. After watching practice the last few times, he's the one delivering more hits than anybody," Gase said.
The only thing the coach said would really convince everyone that Bell needed some preseason playing time was to get a little game tempo down.
"It's a different deal when it's a real game," Gase said. "Thursday you saw, it's different than practice, the way Sam [Darnold] was operating, that tempo he was going at. He was just playing at a good tempo. I think that's just something that wouldn't be a bad thing for Le'Veon to experience, just so he goes, 'OK, I know what it is.' "
Whatever the call, it will be made with an eye not toward Aug. 15 or Aug. 24 but toward Sept. 8.
"I'm definitely ready to play against people other than my teammates, other guys that don't know my plays, don't know what's going on," Bell said. "It's hard having to be patient and wait. But at the same time, I know it's for the better good. When Week 1 comes around, I'm going to be happy to be out there playing. OK, the lights are on. Now it's time to go."