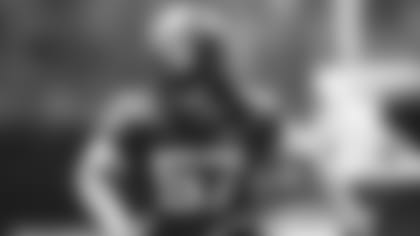 C.J. Mosley said he remembers the days when Jets opponents poured over their schedules and penciled in a "W" next to their date with the Green & White.
On Tuesday, the veteran linebacker said that those days are over. Part of the reason is the team's stout defense. Part of the reason is the presence of No. 8, Aaron Rodgers, a guy he called a "generational quarterback."
"If anything, it puts more targets on our backs," Mosley said. "In the past, other teams were chalking us up when they saw the Jets on the schedule. Whatever it is, now they want to go and sack No. 8. We've got a bigger target on our backs, but that's exactly what we want. We'll give our all, especially when we go to their stadiums and shut them up after the game. That's what it takes to win a Super Bowl and win the tough games we have in our future."
As the thinking and breathing heart of the Jets' defense, Mosley helped to elevate the group from the bottom of the league to a top 5 unit in the 2022 season. Mosley has found himself surrounded by promising young players like CB Sauce Gardner, and D-linemen Quinnen Williams, Carl Lawson, Jermaine Johnson and Micheal Clemons, to name only a few. His former teammate from Baltimore, Chuck Clark, adds an edge and uncommon durability. Can the defense possibly improve on last season's performance?
"It's going to be very hard," he said. "It's never easy finishing in the top 5, top 10. A couple of years ago, we were one of the worst. That was a long and tough season, but through that we learned a lot about the defense. I learned about my game and how it was attacked. Now in Year 3 in this defense, there's more opportunity for us to grow and show different things. Because we're growing, we just have that confidence. With Aaron Rodgers on the other side [during OTAs], he's been testing us every single day. Having to drill down just makes us better."
After opting out of the 2020 season during the coronavirus pandemic, Mosley came back like gangbusters in 2021, playing in 16 games and amassing the most tackles (168, 103 solo) of his storied NFL career. Last season he played in all 17 games, getting 158 tackles and falling one short of 100 solo efforts by a single tackle.
With OTAs winding down and the Jets not planning to hold a mandatory minicamp, as HC Robert Saleh said on Tuesday, Mosley said that the early tenor of the locker room has been amped up.
"There's a different vibe," Mosley said. "He [Rodgers] set the bar with his expectations, with his résumé and the way he approaches the game. As a linebacker and a defender, it's not every day that you get to go against a future Hall of Fame quarterback to test your skill every day to grow as a defense and as a team."
With Rodgers joining the team after 18 seasons and 4 NFL MVP awards in Green Bay, the Jets have been tabbed as a team to watch this season. There's even been chatter about the Super Bowl, talk that might seem audacious to some but strikes Mosley and Saleh as aspirational.
"It's not arrogance, every team wants to win a championship," Saleh said. "Every team is expecting to win a championship. Do you have the discipline to bring it back, that's where messaging comes in." He added: "Every team going into training camp believes they can win. It's a true inner belief, no matter what is said. But what you're doing today is what matters."
Mosley echoed his coach, when he dispelled any notion that it's mere bombast or a problem, saying: "Not for me. When I heard him [Rodgers] say it and talk about it ... that's why we're here. We're here to win a championship and be a great team for a long time. He gives us an opportunity, but nobody is going to give you anything. We understand it's a small window and we have a generational quarterback. It's the little things that are going to make us better."
Along with the talk about championship, some pundits have tipped the Jets to win the AFC East title for the first time since 2002. It's a tough task in one of the league's most competitive divisions.
"We don't feel like anything but being ourselves," Mosley said. "It's not our job to write the headlines. The way we play football will show what kind of team we are."