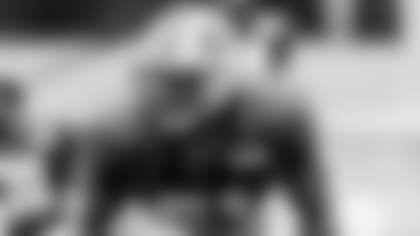 It's been quite a season so far for Brandon Copeland. He was one of several veteran free agents the Jets brought in this spring to stoke the competition at linebacker. Rather than get lost in the sauce, Copeland has risen to first-string status at OLB, at least at the Green & White practice and then Friday at MetLife Stadium against the Falcons.
"It's been going great. And it was fun to be in MetLife," Copeland told me after that game and before immediately heading out with the team to this week's joint practices with the Redskins.
"I've played here before but against the Giants, not the Jets. I've always known this is one of the meccas of stadiums. The difference with the fans out here is they know everybody on the field, so you're walking to the locker room and you hear people calling you by your first name. So it's pretty fun."
As for the fun of starting, he said, "It was great to be out there with the first team, especially for me personally to get out there. It's been a long journey to get back to this spot."
Copeland could have meant any one of a few journeys, such as onto another NFL roster. As a pro, he last played with Detroit in 2015-16. But he went on IR in the summer of '17 with a torn pectoral and missed the entire season. When the Lions didn't tender him a qualifying offer this year, the Jets reached out to him.
But Copeland also might have been referring to being a starter again. As a Lion, he played 32 games but had only one start. Before that he was with the Ravens, whom he signed with as an undrafted free agent in 2013, and Titans, but didn't play a regular-season game with either.
The last time he was a regular starter was when he was a big man on the University of Pennsylvania campus. He was a three-time All-Ivy League first-teamer for Penn, and in 2012 he was the captain and defensive MVP for the Quakers team that won the Ivy championship.
Copeland might've even have been referring to a cosmic transgenerational trek. His grandfather, Roy Hilton, never played for the Green & White, but he did have an 11-year pro career, mostly as a DE for the Baltimore Colts and one other season with the Giants. In fact, Hilton played in Super Bowl III against the Jets.
All those threads seemingly are being woven into a season of homecomings. Copeland was born and raised in Baltimore, and so he'll crown this week's practices in Richmond, VA, with Thursday night's ESPN game against the 'Skins in his home state of Maryland at FedEx Field. And should he make the Jets' 53-man roster, the opener will be Sept. 10 in, of all places, the Motor City.
"Obviously once the schedule came out, it was not only that the first game was in Detroit but it was Monday Night Football on top of that. It was like what more can you ask for?" he said. "God has really set this season up to be something special, so I'm excited for it."
Now it's up to Copeland to capitalize on his role on the Jets defense, be it as a starter or a vital contributor.
"I'm trying to get more chemistry out there with my teammates, make sure they know they can trust me to do my job, and then also trying to hit my own stride and make plays," he said. "I'm just trying to work every single day to get better."