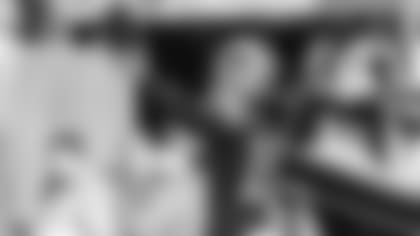 One thing about Jets Pro Bowl kick returner Andre Roberts is that he knows he's part of a team, win or lose. And that came through when he was asked after Sunday's 44-38 loss to Green Bay at MetLife Stadium how his 99-yard kickoff return in the second quarter unfolded.
"Yeah, it was a great call. I think I went untouched, so obviously the guys did a great job blocking. We knew the Packers were going to kick it a certain way and we just took advantage of it," Roberts said. "Like I've been saying, the guys are blocking so hard, they know I'm going to run hard for them, and things are just clicking right now."
Another thing about Roberts is that when push comes to shove, he probably knows he's better at his job than a lot of people outside the game thought he was. Asked by a reporter about his surge "late in his career," he smiled.
"I still feel young," said the ninth-year veteran who will turn 31 in a couple of weeks, "so I don't know about late in my career. Hopefully I can play for a little while longer."
And asked his thoughts on being one of 40 players in NFL history to record at least one receiving touchdown, one punt-return TD and one kickoff-return score all in the same season, he replied: "I mean, one of the only players to do it? Obviously it's a big thing."
It was that kind of day for Roberts, who added to his seasonful of achievements while wearing green and white. He had the punt-return score that helped the Jets win their season opener at Detroit, he added his first receiving touchdown in two years last week against Houston, and he came into this game with the league's best punt-return average and the third-best kickoff-return average. By the end of this week's games, he should be leading both return lists.
And he nearly saved this game for the Jets. His 99-yarder — the Jets' first kick-return TD since the late Joe McKnight took one to the house against the Texans in 2012 — put them back up by two touchdowns, 21-7, in the second quarter.
Then when Aaron Rodgers and the Packers relentlessly marched back to take a 38-35 lead with 1:12 to play and tried to "mortar" a kickoff away from him, No. 19 ranged to his left to grab the ball at the Jets 11 and took off for another long return that looked for a few seconds as if it might win the day for the Jets.
Roberts was pushed out of bounds at the Packers 38 for a 51-yard return. Five players later, Jason Myers came on for the tying 33-yard field goal that sent things to overtime.
Coordinator Brant Boyer's special teams continue to sparkle for the Jets. Myers, a Pro Bowler himself, redeemed himself after missing only his third FG of the season from 45 yards out on the game's opening drive. And Rontez Miles, the upback on the punt team, added another play that "almost" pulled the victory out late in regulation when he took the short snap from Thomas Hennessy on fourth-and-1 from the Jets 31 and moved the chains with a 4-yard run off the fake for the first offensive contribution of his career.
But Miles took a moment to marvel at his teammate's return skills.
"He's great," Miles said. "I think he's the best returner I've ever blocked for."
Roberts returned the compliment when he was asked about the successful fake.
"Everybody's just believing," Roberts said. "Unfortunately, we didn't get the win today. But I know for a fact that everybody believes we can win and we can make plays every time out there."