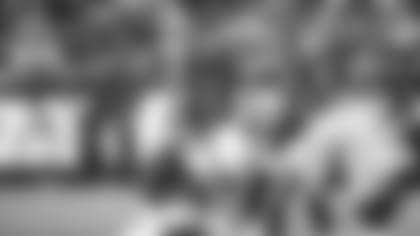 Hours before the Jets took the field at MetLife Stadium to match up against the Saints in their preseason home opener, general manager Joe Douglas made it clear that he was rooting for kicker Taylor Bertolet. 
"Taylor has had a great week of camp and we're going to support him," Douglas told reporters before the game. "This is a big night for him. We're going to evaluate him and see how he does, but he had a good week of camp."
If the "big night" for Bertolet presented any type of pressure, he certainly didn't show it. The 5'9", 188-pound kicker came out firing and connected on both of his field goal attempts from 48 and 56 yards along with an extra point in the Jets' 28-13 loss. Bertolet's 56-yarder in the third quarter was the longest kick during a Jets' home game — both preseason and regular season — since 1970. No kicker in franchise history has ever hit a kick at home in the regular season longer than 55 yards
"That was the longest kick I've had in my career. That was the longest I've actually attempted, too—56," Bertolet told nyjets.com's Randy Lange. "I've never attempted in a game anything longer than 55, which I did in college."
The 26-year-old's much-anticipated performance came as a solid bounce back after last week's against game against Falcons in which Bertolet drove in a 49-yard field goal but missed two out of his three extra-point attempts. Nonetheless, along with Douglas, head coach Adam Gase was anticipating a solid outcome from his first-year kicker.
"I think he looked good tonight and did a good job of making the ones he had an opportunity on. We were hoping to be able to do that," Gase said. "We wanted to give him opportunities and I think you can see his leg is live. It's just all about controlling it."
Gase has also helped instill a mindset in Bertolet that has allowed him to find success in each day.
"I think I'm just focused on what's important now," Bertolet said. "Coach Gase uses the acronym WIN, which is what's important now. I wasn't dwelling on the past, I was focused on this game and going one-for-one on each kick. That was my mentality, not to focus on what I shouldn't do but to focus on what I should be doing."
Being the lone kicker on an entire 90-man roster can bring its own pressures, but for Bertolet, it's important to keep a focused, competitive mindset.
"I don't think my approach is any different if I'm the only guy or if there's competition. I'm still competing every single day," he said. "Every day I go out to practice and every kick in preseason is important, so I'm competing against every other guy that's in the NFL. Everyone is getting watched, so in a sense I'm still competing."