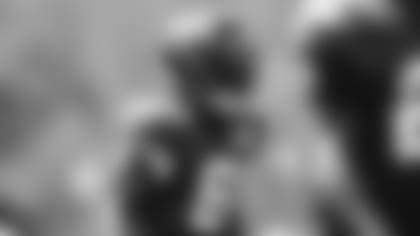 Jordan Whitehead is feeling right at home in the Jets' deep middle, and it has little if anything to do with Florham Park's relative proximity to his hometown of Pittsburgh or with him treading in the island footsteps of cousin Darrelle Revis.
"You know, it's like I've been here before," Whitehead told Eric Allen on Tuesday's Two-Minute Drill. "OTAs did a great job of getting me ready, the whole team ready. Guys are coming out, playing fast. On the first day of pads, they were flying around, being smart. For me, it just feels like I've been here. I'm jelling with the team, with the defense, making plays."
One key to Whitehead's comfortability is his growing familiarity with fellow veteran safety Lamarcus Joyner, who's back in action after playing only part of the season opener at Carolina last year before sustaining a season-ending torn triceps injury.
"We're getting it," he said. "There are a lot of coaching points we could get better on, but we're picking it up fast. Every day is a new thing just to get smarter at and get better at."
Meanwhile, Whitehead is making those plays of his, both against the offense's passes and against its rushes. He enjoyed perhaps the best season of his four pro years with Tampa Bay in coverage (no TDs allowed and opponents' passer rating of 62.6, both career lows).
But he loves his run support and tackling, as we're about to find out.
"Seven-on-seven, that's all pretty and stuff," he said, "but when the pads get on, that's when grown men come out. That's when you really play football. That's when I use my abilities and play to my strengths."
MLB C.J. Mosley acknowledge that part of Whitehead's game when the Jets' defensive leader was asked to describe his new safety teammate's game.
"Versatility, speed, awareness. His IQ level is real high," Mosley said. "You see him in the back end reading the quarterback, shooting his gap, making plays. And he loves to be in the run fit, too. Anytime you can get a safety that can play the pass and fit fast in the run, that's a plus."
One unofficial tackle measure supports that run-defense analysis. In the past four seasons, 84 defensive backs have logged 2,500 or more defensive snaps. Whitehead has 291 total tackles on his 3,144 regular-season plays, a rate of 10.80 tackles/snap that is 14th among those DBs and 11th among safeties in that span.
"God, he's a stud, knock on wood for him," coach Robert Saleh said, adding of Whitehead's availability in free agency this offseason, "Every once in a while a guy slips and you don't expect guys like him to get out of the building — ever, ever. His locker room presence, his voice on the field, his battle cadence presnap, his instinct and reactionary skills postsnap, the juice and energy he brings — home run."
And Mosley who brought some playoff chops with him from Baltimore three years ago, likes the Super Bowl ring Whitehead has from the 2020 Buccaneers and what it can mean for the '22 Jets.
"He's seen the blueprint for it, the work ethic, the study habits off the field," the LB said. "When you get players from other teams that come from winning organizations and that have been around that success, they can help spread that to what we have here."
Teammates already sense that winning vibe. Fans will get a growing feeling for what he'll bring to the operation, at the annual Green & White Practice at MetLife Stadium on Saturday night, during three days of joint practices combined with the Falcons and Giants, and in their three preseason games before Whitehead and company show just how comfy they are beginning with the season opener at home against Mosley's former team, the Ravens, on Sept. 11.
See the Green & White on the field in full pads during week two at training camp.