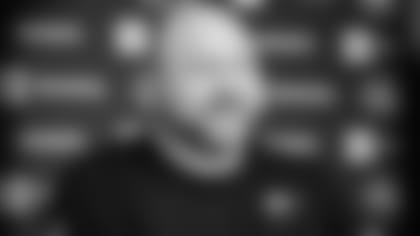 Jets general manage Joe Douglas, a day after making his and the Jets' third blockbuster trade of a former No. 1 pick since his arrival in June 2019, was peppered with a number of questions he didn't address in his statement on the trade of QB Sam Darnold to the Carolina Panthers.
But two things haven't changed. Douglas still respects the heck out of Darnold.
"Sam's a stud," the GM said. "Sam's one of my most favorite people on the team, just from personality, work ethic, toughness. When you make decisions like this, there's a human element to it. You hate losing good people. I do feel Sam's best football is in front of him."
And yet Douglas feels the decisions that had to be made at this time were to send Darnold to the Panthers and prepare the way for the new Jets quarterback of the future with the second overall pick on April 29 in Cleveland.
"I think it's safe to say if our pick were a little later, we wouldn't be having this discussion right now and we'd be happy moving forward with Sam," he said. "There were a lot of different rabbit holes we went down, a lot of productive talks with Coach [Saleh], Mike [LaFleur, offensive coordinator], Woody and Christopher [Johnson] that led to this decision. Ultimately we felt this was a decision that was best for all parties."
Douglas even said there were discussions about one scenario they determined wouldn't have been best for all parties.
"I can tell you there were even discussions about us taking a quarterback at pick No. 2 and having Sam here for the season," he said. "Ultimately we felt that wouldn't be the best situation for Sam, for the rookie quarterback, for Coach Saleh and his staff, and for the locker room. We felt this was the best decision for the organization moving forward, hitting the reset button."
But one thing that Douglas knows didn't get done for Darnold from 2018 through last season is the construction of the final solid foundation around the QB. Sam had modest success in Year 1, more in Year 2. Then in last year's 2-14 season, he suffered along with everyone else on the team, posting pro lows in yardage (2,208), touchdown passes (nine), first downs (109) and rating (72.7), yet rarely played with a healthy and whole offensive line and wideout unit.
Darnold's Jets legacy, then, may become that he was the transition signal-caller between the parade of QBs before him and the new guy expected to arrive later this month. Douglas made reference to the first three weeks of unrestricted free agency, saying, "A lot of people are fired up in this building, not only with talent we brought in but also the character we brought into this locker room."
Similarly, this year's sixth-round selection and the 2022 second- and fourth-rounders from Carolina in the Darnold trade give the Jets 21 picks in the next two drafts, with 10 of those picks in the first three rounds. The assets are there to provide that new young QB, whoever he is, with the tough, talented bodies to finally lift the Green & White out of their decade-long doldrums.
"We talk about those acquisitions, or these assets we have in the draft," Douglas said. "So it's incumbent upon us to get these decisions right, whether it's turning the card in or trading for a proven commodity. We have to surround our new quarterback with as much talent as possible."