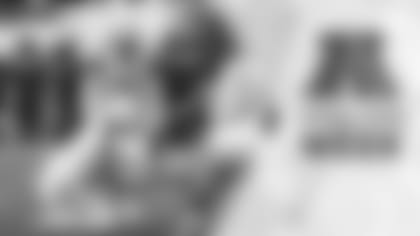 It was just another day at the office, Jason Myers said after nailing a franchise-record seven field goals in seven attempts to help the Jets stay ahead of the Indianapolis Colts for their 42-34 victory at MetLife Stadium on Sunday.
"It's more important that we got the win," Myers said, "but being able to help out and do what I can that way, that's what's most important to me."
Not many kickers help out as much as did Myers, who because of his prolific day has been named this week's AFC Special Teams Player of the Week. In flawlessly driving through his three-pointers from 30, 48, 32, 37, 45, 37 and 45 yards, he became only the seventh player in NFL history to hit at least seven field goals in a game and just the sixth to hit at least seven without a miss.
Myers did admit he was in a groove Sunday, but even then he spread around the praise to holder Lachlan Edwards, long-snapper Thomas Hennessy and his blockers.
"There's always days where you're kind of fighting it, but I felt good," he said. "Tom and Lac did a great job and the boys up front gave me all day. They made my job pretty easy."
Edwards returned the compliments to his battery mates.
"Jason's a great kicker," he said. "Tom makes it easy on the whole operation and Jason's just been putting them through. There was a bit of a tough wind, too, I don't know if a lot of people felt it. It was probably around 7 miles per hour, but in that stadium sometimes it feels like it just funnels whatever wind there is. Jason did a great job."
Hennessy agreed that Myers was "phenomenal," and extended that assessment to the whole unit.
"We go in every day and strive for excellence. Coach [Brant] Boyer has us strive for excellence, and I think each of us demands it from ourselves and from each other," he said. "That's what happens when you take one kick at a time, one snap at a time, one punt at a time and just lock in. You can end up finding yourself in good company at the end of the day."
Myers' 7-for-7 was much of the reason he's a POW for the first time in his four-season career, the first of which were spent with the Jaguars, but there's more:
It almost goes without saying that Myers became the first Jet to hit seven field goals in a game. He topped the mark of six shared by Jim Turner, 6-for-8 against the Bills in 1968, and Bobby Howfield, 6-for-7 vs. the Saints in 1972.
By going 3-for-3 in the fourth quarter, which improved the Jets' lead from a shaky 33-27 to a more secure 42-27 lead, he became the fifth Jets kicker to hit three field goals in a quarter. The last one to do it: Jay Feely, who was 3-for-3 in the second quarter of the 47-3 home rout of the Rams in 2008.
Myers also converted all three of his extra points, giving him 24 points for the game. That's the most by a Jets kicker all-time and it ties the franchise record set by Wesley Walker with his four receptions vs. Miami in 1986. The only kicker with more points in NFL history solely from kicking was Rob Bironas, 8-for-8 on FGs and 2-for-2 on XPs in the Titans' 38-36 win over the Texans in 2007.
For the third time this season, Myers had at least six kickoff touchbacks in a game, in fact getting eight TBs on his 10 kickoffs vs. the Colts. Since 1972, only three other Jets kickers had six touchbacks in a game — Howfield at New England in 1972, Nick Folk vs. Buffalo in '12 and Chandler Catanzaro last year also vs. the Bills.
Myers, who has hit an NFL-leading 16 field goals in 17 tries, is being recognized by the league one week after RB Isaiah Crowell was named the AFC's Offensive Player of the Week for his record-setting rushing performance against Denver.
Myers is the Jets' first special-teamer to earn a POW award since punter Ryan Quigley after Week 9 of the 2015 season, and the first Jets placekicker so named since Nick Folk received the honor after Week 5 in 2010 and after Weeks 1 and 9 in 2013.