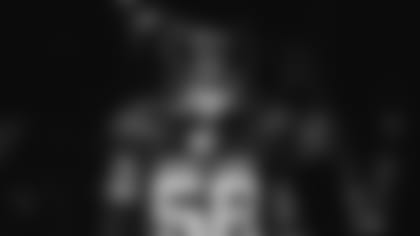 When NFL teams enter the crucial parts of the offseason, preseason and regular season in immediate need of a body at a position, they rely on their scouting, their coaches' connections with out-of-work players, and just plain personnel luck. They usually find a JAG — just another guy — to plug a hole.
Then sometimes they find a player like James Burgess.
"Burge? How many times has he been cut?" coordinator Gregg Williams said in November. "Those guys are fun to coach. I love the fact that we've had a chance to win with those kinds of guys."
The 6-foot, 230-pound inside linebacker turned the love around by talking not about himself but about his teammates.
"I feel really proud of this team and this organization," he said after the season finale at Buffalo. "Obviously finishing 6-2 after starting 1-7, it takes a special team to do that. So I'm just excited about the future for us."
Burgess contributed greatly to that turnaround, but it took a while for him to find the Jets and vice versa. He began his NFL career as an undrafted free agent out of Louisville with Adam Gase's Dolphins in 2016. He never played for the 'Fins in '16 or in a brief return last season, but he did play for Williams on the Browns in '17-18.
He was available when Gase/Williams brought him to the Jets last May. He was a final cut in late August, but after C.J. Mosley suffered his groin injury in the opener, he was signed to the Jets' practice squad. Seven weeks later he hit the ground running in his Green & White debut at Jacksonville.
As we've detailed before, Burgess' strength is playing across the line of scrimmage. Unofficially, his 17 tackles for loss/no gain on rushes and receptions overtook rookie DL Kyle Phillips' head start for the team lead (Phillips finished with 12.5). He also had two half sacks for a total of 18.0 tackles for loss/no gain.
"I love the run, I love the physicality of the game, I love being in the trenches with the guys, so it's always been a part of my game," Burgess said. "I always dedicated myself to tackles for loss, stuff plays. I've never been on a team that didn't have a good run defense, honestly, in my life. So it's one of those things that you're prideful about."
But that physicality extends to just plain tackles and plays. Burgess, despite playing in only 10 games to Jamal Adams' 14, nearly caught the safety in the Bills game for the team's tackles lead, finishing with 90 stops to Adams' 91, according to coaches' video review.
And then there was Burgess' availability. When it seemed all around him were going down due to injuries, he was on the field for all 662 defensive snaps over the last nine games and for all but 3 snaps if we include that first start at the Jaguars.
Some observers faulted Burgess in pass coverage, but Williams argued, "He hasn't been beat very many times in man coverage or zone coverage. He's one of the best zone defender linebackers we have."
And when Burgess did have an off game vs. the pass, such as at Miami when TE Mike Gesicki caught several of his six catches for 95 yards against his coverage, he bounced back with the Miami home game five weeks later, when Gesicki managed one catch for 6 yards.
Suffice to say that as happy as the Jets were to find Burgess still out there and available this season, he was happy to find the Jets.
"Gase is a great coach. He does a great job of taking care of his guys, so you love to play like that," said Burgess, who can become a restricted free agent in March. "The Jets have to deal with my agency, but I want to be back. I love it here, man."