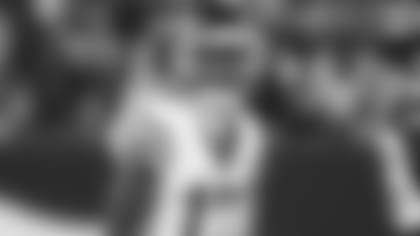 One thing to admire about Garrett Wilson as the Jets' second-year wideout clears hurdles this season is that he doesn't like to talk about himself all that much.
Wilson could have patted himself on the back, respectfully, of course, after his game vs. the Chiefs lifted him onto the 100-catch plateau, making him the fastest player who started out as a Jets rookie to clear 100 receptions in a Jets career. Instead, he talked up Zach Wilson and the Jets offense that showed spark against the NFL defending champions' top-10 defense.
"Offensively, I felt we did some things that were good," G.Wilson said. "Now it's just trying to figure out how to start like that, finish like that and everything in between. We took a step, and if you ain't doing that, you ain't doing it right."
Garrett has done it right so far. Needing only five catches to reach 100, he got that from Zach in the first two quarters, then added four more to equal his career game high of 9 in last season's finale at Miami. Here are the three he leaped ahead of for fastest to 100 catches by a receiver who began his career as a Jets rookie:
Table inside Article

| Jets Receiver | Seasons | Games to 100 |
| --- | --- | --- |
| Garrett Wilson | 2022-23 | 21 |
| Wayne Chrebet | 1995-96 | 23 |
| Al Toon | 1985-86 | 24 |
| Keyshawn Johnson | 1996-97 | 24 |
But what about all those veterans who arrived as Jets and caught their three figures' worth of receptions quicker? G.Wilson now has a place on that list, too, although not at No. 1. That's held by Brandon Marshall, who came to the Jets in 2015 and became the only Jet to grab 100 balls in one season. He's tied for sixth with Eric Decker:
Table inside Article

| Jets Receiver | Seasons | Games to 100 |
| --- | --- | --- |
| Brandon Marshall | 2015 | 15 |
| Don Maynard | 1960-61 | 19 |
| Art Powell | 1961-62 | 19 |
| Jamison Crowder | 2019-20 | 19 |
| Bake Turner | 1963-64 | 20 |
| Eric Decker | 2014-15 | 21 |
| Garrett Wilson | 2022-23 | 21 |
| Wayne Chrebet | 1995-96 | 23 |
G.Wilson also has some other irons in the fire. He's caught at least one pass in every game of his pro career, with his 21-game receiving streak within range of Wesley Walker in fourth place for longest receiving streak to start a Jets career as a rookie. Walker's 31-game streak in 1977-79 trails only Johnson (64, including 2 PO games), Chrebet (45) and Rob Moore (37 including 1 PO game). Even if some opponent shuts G.Wilson down for a game, we don't doubt he'll be clearing plenty of other hurdles in his coming seasons in green and white.
Jets' Red Zone Defense: Top of the Heap
The Jets, as you may have noticed, are No. 1 in the NFL in red zone touchdown defense after holding the Chiefs to 0-for-4 in the red zone (3 FGs and one at the end of the game, which still counts). Their 25.0% TD rate is their best ever after four games of a season. After five games, the best RZ defense in franchise history was the 1982 team also at 25.0% (3-of-12) through five games in their strike-shortened nine-game season.
KC's "Bizarre" Four-Minute Drive
The Chiefs' 7:24 drive to end the Sunday night affair caught the attention of HC Robert Saleh: "It was a bizarre last drive, a series of unfortunate events. ... I don't think I've ever been part of a drive like that to end a football game." The Jets haven't had it happen much to them either. The only other time since 1970 that opponents had a longer "four-minute drive" to end a win over them was the 1981 opener at Buffalo, when the Bills drained the last 7:37 from the clock for their 31-0 victory.
The Steelers ran out the final 8:19 in overtime before kicking the game-winning FG for their 20-17 win in the 2004 playoff game at Pittsburgh. That wasn't a four-minute situation since the game was tied and in OT but is still worth mentioning here.
The Jets' longest four-minute drive actually lasted 11:09 as the 2008 team QB'd by Brett Favre finished off the St. Louis Rams for their 47-3 home win.