Mike Maccagnan made a bold statement of draft intent during his Combine confab with reporters last week.
"We're open for business in every round," the GM told Jets media in Indy. "If somebody wants to move up in any particular round and we have a pick in that round, call us up."
Does that include in Round 1, the sixth pick of the draft? "Yeah," Mac replied. "Any pick."
Maccagnan also discussed the other gears the Jets could shift into on Round 1 Draft Night, April 27.
"We're interested in having options going forward," he said. "If we stay at 6 and pick a player, we're perfectly happy doing that. If we decide to move back a little bit and get more picks and more opportunities, we'd be perfectly happy doing that. And if the situation arises where we feel a player slides a little bit, is in striking distance and the compensation's not bad — I'm gong to cover all bases here — we're going to move up a little bit."
Still, the tradedown options are intriguing. The Jets have traded up a number of times in Round 1 (think Lam Jones, Shaun Ellis, Santana Moss, Dewayne Robertson, Darrelle Revis and Mark Sanchez). But they haven't traded down from their first-round perch very often. Only three times to be specific.
1997 — This was the most stunning tradedown in franchise history as Bill Parcells came to town knowing he needed to parlay the overall No. 1 selection into multiple picks for good young players to enable the Jets to put 1-15 far behind them. He did that by trading down to the Rams' No. 6 slot (they had their eye on T Orlando Pace at No. 1), then moving down from there to the Buccaneers' No. 8 before finally selecting LB James Farrior out of Virginia.
Besides the Rams' first-rounder, the Jets also got a 3, 4 and 7 that year and a 6 in '98. Then they acquired a 4 in the Bucs trade and a 3, 6 and 7 in trading the Rams' 3 to the Broncos. (Got all that?) The draft picks Parcells wound up with that day were Farrior (1), WR Dedric Ward (3), DE Terry Day (4), RB/KR Leon Johnson (4), QB Chuck Clements (6) and DT Jason Ferguson (7), plus RB Dustin Johnson (6) the next year.
Farrior, Ward, Johnson and Ferguson were keepers as the Jets went on to 9-7 in '97 and 12-4 and the AFC Championship Game in '98.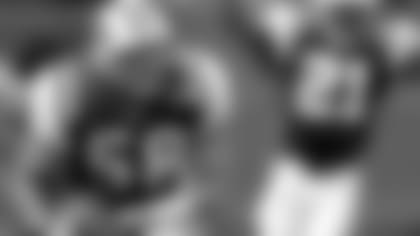 1993 — The Jets' first Round 1 tradedown came four years earlier, and that one turned out well, too. They held the No. 3 choice while the then-Phoenix Cardinals sat at No. 4 and were coveting RB Garrison Hearst. The teams swapped first-rounders, and because the Cards got their new bellcow back, they sent veteran Johnny Johnson to the Jets in the package.
Johnson stayed around only two years, but with the fourth pick the Jets got a much longer career from LB Marvin Jones, the Florida State great who started 129 games in his 11 pro seasons, all in green and white, and is one of only four players in franchise history with 1,000-plus tackles.
2005 — Less fondly remembered was the tradedown a dozen years ago. The Jets sat at No. 26 after their 2004 playoff run and didn't like the neighborhood so much. Oakland was en route to moving on up to No. 23 for CB Fabian Washington. The Jets gave up their 1 and 7 for the Raiders' 2, which they used to pick K Mike Nugent, and two sixth-rounders, one of which they spent on RB Cedric Houston. Also included in the deal was veteran TE Doug Jolley, who stayed only for the '05 season.
Tradedowns may work splendidly or not so much. But one thing they do accomplish is the addition of bodies. And that's something that Maccagnan made clear he'd like to do this year.
"Every draft I've been in, I've always wanted to acquire more picks," he said. "You don't always get the opportunity to move back when you're drafting. But we would like to move back and acquire more picks in this draft if possible. That affords you at least the opportunity to expedite the process of improving the talent on your roster. And if you believe you have a good process and a good group of scouts and coaches that can evaluate, then hopefully you can improve your roster that way."