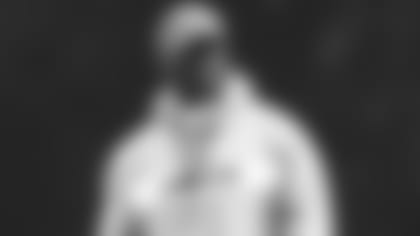 No matter the outcome last Thursday night in Cleveland, the Jets were not going to dwell on the result. After dropping a 21-17 contest to the Browns in Week 3, the Green & White had the weekend off before making their corrections and beginning preparations for Jacksonville Monday.
"I don't think it's going to be tough at all. It's a long season, we understand that," fourth-year head coach Todd Bowles told reporters today. "If we would have won, we would have moved past it. And we lost the game — we're going to move past it."
The Jets had a 14-0 lead over the Browns, but Cleveland went on a second-half surge with Baker Mayfield coming on in relief of Tyrod Taylor and energizing what had been a quiet crowd at FirstEnergy Stadium. The team's second consecutive defeat followed the Jets' home opener when early miscues put the club in a 20-0 hole against the Dolphins they could never recover from.
"We just couldn't make a play," Bowles said of the final 30 minutes along Lake Erie. "There were a lot of things we could have done better that we are working on this week that have hurt us in the past two or three weeks that we are going to try and work on. We understand that we need to do a better job on both sides."
After completing 16 of 21 passes for 198 yards with two touchdowns and one interception in a Week 1 rout of the Lions, Darnold connected on 55.5% of his passes the past two games with one scoring toss and four interceptions.
"I think he will come out of it fine," Bowles said of the USC product. "I think Sam as the right mentality and he has the right work ethic to learn what he has done wrong, as well as the rest of the team. They come back out of it and he's not in it by himself. We are in it as a team. Everything he learns from is an experience. He made some good plays. He had some plays that he can learn from and some plays that he would like to have back. I think he will come out of it fine."
Jetcetera
Second-year safety Marcus Maye (foot) could make his season debut Sunday against the Jaguars. Bowles said the Melbourne, FL native continues to get better and he'll see how he progresses throughout the week… Like many people coaching and playing and observing on Sundays, Bowles is not clear about the NFL's new roughing the passer penalty, "The ones I have seen, those were some very good plays. I don't know how to coach that in certain situations. That's very difficult to deal with."… After reviving his career with the Jets last season, Jaguars TE Austin Seferian-Jenkins has recorded three catches each game for the Jaguars during the team's 2-1 start. "I think he's done a great job and continues to do a great job of doing everything the right way, and that helps his football element as well," Bowles said. "You know about the talented guy on the field, but from what he's been through and where he came from, I can't do anything but take my hat off to him. I have tons of respect for him."