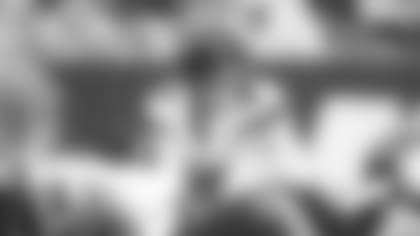 Zach Wilson will make his third consecutive start for the Jets Sunday night when the team plays host to the defending Super Bowl Champion Kansas City Chiefs at MetLife Stadium. And HC Robert Saleh told reporters Monday, a day after his team's 15-10 loss to the Patriots, that Wilson will continue to be the Jets starter for the foreseeable future.
"He's our unquestioned quarterback," Saleh said. "As long as he continues to show the way his preparation, the way he's been practicing and even in these games — he's not the reason why we lost yesterday. It's always a team effort. As long as he continues to show improvement — and I know from a box-score standpoint it's not showing — he's going to be our quarterback."
During the Green & White's 1-2 start, Wilson has completed 52.4% of his passes for 467 yards with 2 TDs and 4 INTs. Against the Patriots, Wilson hit on half of his throws (18 of 36) for 157 yards and was sacked 3 times.
"One thing I'm going to give him credit for is that he had a turnover-free game yesterday," Saleh said. "He had no turnover-worthy throws from my recollection and because of that, we were in position and had the ball at midfield with 1:40 to go and two timeouts to win the game. We played a clean game of football on the offensive side of the ball and were able to win the field position battle in the second half."
The Jets started the year with offensive comfort, knowing future Hall of Fame QB Aaron Rodgers was working with OC Nathaniel Hackett a second time after the two experienced great success together in Green Bay. But Rodgers' first season in New York ended after 4 snaps/3 plays when he sustained an Achilles tear against the Bills two weeks ago. That forced Wilson into action and a developmental year behind the future Hall of Famer ceased immediately. The Jets rank 32nd in third-down efficiency and 31st in scoring (14 pts/g). After amassing 172 yards on the ground in Week 1, the Green & White were held to 64 yards against the Cowboys and 38 yards against the Patriots. The Jets are averaging 4.22 yards per play and 133.7 pass yards per game.
"There are things we need to get better at and in a hurry," Saleh said. "There is an identity which we're trying to find on the offensive side of the ball. It's not an excuse, but the reality is it was built a certain way and now we're trying to adjust on the fly which is a challenge but a challenge that I think we're going to end up coming to an answer for."
While telling reporters sometimes the numbers don't always tell the story, Saleh said the Jets continue to see an improved Wilson from a year ago.
"He's much more confident, he's much more accurate, he's got much more command in the huddle, he looks better in the pocket," Saleh said of the third-year signal-caller. "Could have been better yesterday, but he's improved and he's getting better and he's going through his progressions. When he is hitting his back foot with his timing and rhythm, he looks fantastic. And you just don't throw people away, man. You just have to continue to work with him, he's here, he gives us our best chance to win and as coaches we're going to do everything we can to help him."
The Jets' run of opponents with stout defenses will continue in Week 4. Wilson will face a Chiefs unit that ranks 7th in total defense (280.7 yds/g), 7th against the pass (178.0 yds/g) and is tied for 5th on third down (30.77%).
"Are there things he can do better? Of course," Saleh said of Wilson. "Are there things we can do better around him as teammates? Of course. Are there things that we can do better as a coaching staff? Absolutely."