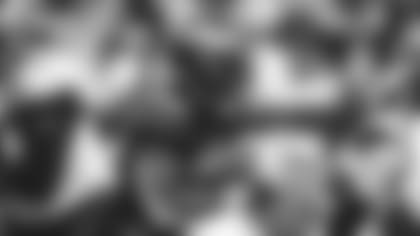 In his second game back from a low-grade high-ankle sprain, Jets rookie RB Michael Carter ran for a career-high 118 yards on 16 carries (7.4 avg) in the team's 26-21 win over the Jaguars on Sunday.
"Michael Carter, he's such a special talent," HC Robert Saleh said on Monday. "The first tackler never brings him down. If the O-line blocks it for 5 [yards], he's finding a way to get 8, 9 and 10. Tevin Coleman was running his butt off, the O-line was blocking. The scheme was awesome and it felt like there was a lot of space for the guys to run through, so a credit to the O-line. When it cut to the sideline on the TVs, you could see GVR [Greg Van Roten] having a good time, the O-line was having a blast when the defense was on the field. People were all engaged. The O-line looked like they were into it, which they should. It was pretty cool to watch from the TV copy, the amount of aggression. All of it was pretty damn impressive."
Carter has 516 rushing yards this season and 404 of them have come after contact, according to Pro Football Focus. When he was asked about what made him so efficient against the Jaguars, he was quick to deflect the credit like a seasoned veteran.
"The boys up front in my opinion," he said. "I think that's facts, too. They were just moving people out of the way in the best way. Between the offensive linemen and the receivers blocking, we didn't really have to do all that much. We just had to make our guys miss at the second level and from a run-game standpoint, we have things we can clean up, but I think the strain was there."
Carter ran behind an offensive line that was missing its two starting guards -- fellow rookie Alijah Vera-Tucker and Laurent Duvernay-Tardif, who were on the reserve/Covid list. Dan Feeney, who took 100% of the snaps for the Chargers in 2018 and 2020, started at LG for Vera-Tucker and Greg Van Roten at RG for Duvernay-Tardif. Van Roten started the first nine games of the season at that spot.
"It means from top to bottom we have guys that can play and that's something that we know," Carter said. "Every week no matter who is there, no matter whose numbers are called, they're going to make a play. I think Morgan Moses had a great message this morning – somebody is going to have an opportunity today. I feel like everybody that played and had an yoopportunity, they made the most of them. It was great to have some guys step up and ball out on the day after Christmas, so that was really cool."
Feeney, though, passed the rock right back to Carter and the backfield and gave them the credit for the team's success.
"I think one of the keys was focusing in on it all week," he said. "We have a couple special backs with Tevin and Mike Carter. It was just kind of handing the ball off him them and let them do their thing."
Carter wasn't the only one to have success on the ground. The Green & White totaled 273 rushing yards, the most since Week 5 of 2018 when the team ran for 323 yards against the Broncos at MetLife Stadium behind Isaiah Crowell (15-209-1TD). Coleman had 14 carries for 57 yards (4.1 avg) and QB Zach Wilson set a franchise record with 91 rushing yards on 4 carries that included a 52-yard scoring run. The rookie quarterback escaped the pocket and took off down the sideline, evading a pair of defenders while walking a tightrope to stay in bounds and eventually scored. It was the longest run – score or not – by a Jets quarterback in franchise history.
"I knew," Carter said of Wilson's agility. "He had a 52-yarder, I haven't done that this year, so that was pretty cool. He didn't really want to celebrate with me, which was weird, but we got the pic in."