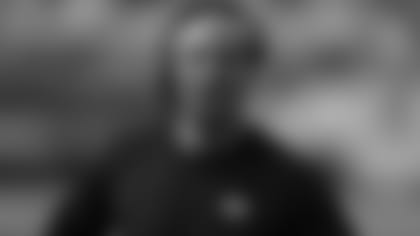 Later this week, the Jets will make a trans-Atlantic trip to London to complete their preparations for Sunday's game against the Falcons at Tottenham Hostpur Stadium. Head coach Robert Saleh, from his time with Jacksonville, made the trip to England three straight years.
"It's a tricky week," Saleh told reporters on Monday as he sat at the desk in his office. "Fortunately I've been a part of this game three times. Once we tried leaving right after a Sunday game, then leaving on Monday, then on Thursday. We have a really good travel plan to keep it as normal as possible for our guys, getting in, acclimated to the time change and playing on Sunday."
After the win over Tennessee, Saleh's first as an NFL head coach, he was asked if his universe of friends and family showered him with texts, he said: "It's cool, I got a text from [49ers coach] Kyle [Shanahan]. I just remember back to 2017 sitting with Kyle at 0-9 and oh my God. Kyle gave me a cool text saying something like at least we [the Jets] didn't have to wait as long."
On the day after, Saleh offered praise for the collective effort, commenting on Zach Wilson, the team's aggressive defense, C.J. Mosley ... really the entire collection of 53 men who tuned out the past three weeks of losses and fought their way to a 27-24 win in overtime.
• On Wilson: "We say this thing about boring football, but we're not looking for Charlie Checkdown. We still want to be aggressive and be smart with the ball. What gets lost in the excitement of big plays is that seven of his completions were for fewer than 7 yards. There was even more to be had. The missed third down pass to Corey [Davis] and Griff [Ryan Griffin] that could have closed out the game. Everyone saw his creativity and off-schedule game. That represents a small part. His head was in the right spot."
• Asked to single out an unsung player on offense and defense, Saleh didn't bite: "I'm not sure who you guys are pumping up. It's a collective thing. Bryce Huff has done a terrific job with [Carl] Lawson out. Quincy Williams, [general manager] Joe Douglas did a great job picking him up off waivers. … You see the young corners playing at a high level. Corey [Davis] had a bad string of a few quarters, then came to life in the second half and was absolutely dominant. Michael Carter gets his first TD. The O-line protected their tails off. The punter [Thomas Morstead] coming in. There's a lot of praise to go around."
• None more so than for veteran LB C.J. Mosley, who led the team with 13 tackles: "You know he's phenomenal. He did something I've never had a LB do in our system. If you listen to the TV copy, he was demonstrative, like he's changing a play -- which he was, which we don't do. He saw something he didn't like. The coaches were like 'what is he doing?' He got us into the perfect play call and we got a sack. That's why he's an All-Pro. He knew exactly what we needed to be in."
Could that be a trend? "I don't know about that one. But he plays on a different level."
See All of the Top Images from the Jets' Dramatic 27-24 Overtime Win Against Tennessee