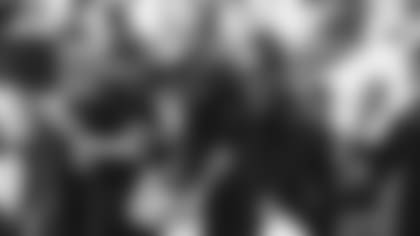 Jets head coach Robert Saleh struck a defiant tone Monday, a day after his team dropped its season opener, 24-9, to the Baltimore Ravens at MetLife Stadium. Saleh insisted things are going to click for his young team even as many people outside 1 Jets Drive insist nothing has changed.
"I know it's going to happen," Saleh said. "We're all taking receipts on all the people who continually mock and say we aren't going to do anything. I'm taking receipts, and I'll be more than happy to share them with you when it's all said and done."
Forty-five players played against the Ravens, 18 of whom made their Jets debut including nine of 22 starters. Seven Jets made their NFL debuts including rookie RT Max Mitchell and CB Ahmad 'Sauce' Gardner, who were in the starting lineup. Rookie WR Garrett Wilson (52 yards receiving) and rookie RB Breece Hall (61 scrimmage yards) became the first Jets rookie pair with 50+ scrimmage yards each on kickoff weekend.
The Jets defense was stifling against the run, holding the Ravens, which had averaged 173.7 yards per game on the ground since 2018 with Lamar Jackson at the controls, to just 63 rush yards and 3.0 yds/carry.
"Yesterday, in my opinion, we did not get beat — we lost," Saleh said. "And they're two totally different things. You just look at it, it just felt like we were the faster team. We played with a lot of speed and aggression, especially on defense. And a lot of these little mistakes, and a lot of things that people don't see with regards to busts, misalignments, whatever it might be, you just see these little things happening and we have to learn how to do right longer."
The Jets lost because they dropped passes, they were inconsistent on special teams, and they gave up three explosive plays to Jackson in the pass game. An offense that had five drives enter plus territory and had some success on the ground only managed 9 points.
"If you're going to go silver lining, it's that we are were exposed to some situations yesterday that, especially in the second half, we talked about it, learning how to win football games, getting into those crunch moments where you're in a tight game and you're going blow for blow, making the plays necessary to win football games and that's where you're going to find out a lot about this football team as we continue to grow," Saleh said. "So, you just trust that they've been exposed to those situations, you identify it and show it on tape, and you address what it is, and they're all teachable moments."
In his second year in charge, Saleh has yet to taste a victory in September. While the Jets were outmanned in many early matchups in 2021, that's not the case anymore as the Green & White have transformed their roster and are confident they can line up and play with anyone.
"It's exhausting for coaches, it's exhausting for ownership, it's exhausting for you guys to continue writing about losers, it's exhausting for fans, it's exhausting for everybody," Saleh said. "And nobody wants to lose. And it's on us as coaches to see how quickly we can accelerate this. And it's on us as an organization to see how we can facilitate all this knowledge to get these guys where they need to be, so they can do right longer and play the way they need to. So, we're always trying to accelerate the process and win immediately. We'd love to and so we are frustrated with it. We're not playing the long game and selling that.
"We want to win — we want to win now."
For Saleh, it's not if things will turn. It's when. And for all the doubters, well, he's keeping the receipts.
"I know that all the praise we've gotten in the offseason and the draft picks and the free agents, all of that is real," he said. "We have a really, really cool football team. Now, it's on us as coaches to extract that out of them and get them to play better, faster which I think we will. Like I know we will. Like I said, it's going to happen. When? We'll all know. You guys are going to feel it happen. I just know it."
See the best images from the opening game of the 2022 season at MetLife Stadium.