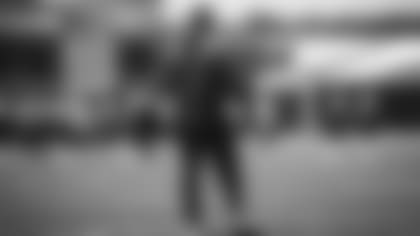 Jets Head Coach Robert Saleh is ready for a break.
After a busy offseason -- free agency, the 2021 NFL Draft, voluntary OTAs and this week's minicamp -- the Jets' first-year coach has been immersed in and single-mindedly navigated the Green & White ship. Now it gets even more interesting.
But first, Saleh will spend some time with his wife and seven children. And, yeah, he expects to get back on the golf course ... and if you happen to have a contact at Augusta National in Georgia, be sure to give him a call.
Saleh said: "They're waiting for me to come home. They haven't seen me in little over a year, so I'll be spending a lot of time with them. When they shut it down, I will probably turn on some film, look at schedules, day-to-day operations. But personally I need to hit the golf course and swimming pool soon."
Between now and the scheduled start of training camp, on July 27, the players and coaches will have time to reflect on what they've accomplished so far, and look ahead with optimism and commitment to the coming season.
"With our group, from the first practice to the last, the improvement has been awesome," Saleh said. "There were some hair-pulling moments, not mine [he shaves his head!]. I tried to put myself in the shoes of a first-year coach last year with really no offseason, no OTAs, then you're in camp. The angst. I think football is impossible to get better at on your own. You can't find a pick-up game of basketball or go into the batting cage. It takes people working together."
When he took the job in January, Saleh and General Manager Joe Douglas put an emphasis on building a culture and identity that appeals to and supports the entire organization.
"Culture, I know that word gets thrown around a lot," Saleh said. "I believe culture is created by the people who are brought in to it. It goes back to all the discussion this offseason, a collaboration to bring in men of tremendous character who love football and want to get better. Identity? Our identity is not going to reveal itself until we see adversity. Everyone loves to be part of a winning team, but what's going to happen when adversity hits and things are not going your way? What will the reaction be as an individual and as a team? I've said it a million times, you have a lot of ebbs and flows, and hair-pulling moments.
"You look back at some of the great coaches in the history of this league. Don Shula played smashmouth football with a great defense. Then [Dan] Marino comes in and the identity switches. Bill Belichick did the same when [Tom] Brady got better, he went from a defense to Tom. Identity will happen organically. If you try to force-feed, sometimes you counteract what you're trying to get done."
The draft yielded 10 picks for the Jets, among them No. 2 overall QB Zach Wilson, OL Alijah Vera-Tucker, WR Elijah Moore, a pair of promising linebackers and a slew of cornerbacks. The Jets have gotten young up and down the roster, which presents additional challenges as Saleh prepares his first team for the 2021 NFL season.
"Pete Carroll said that you can't be afraid to play young guys, cause they're hell on wheels and fun to watch," Saleh said. "Sure it could go either way mentally. There are so many things they can learn and there are going to be ups and downs, that's part of youth. But if you coach and invest, as a player you reciprocate especially when you're young and have juice in those legs. They get the minds of veterans fast when you become an explosive team. You can't, as a football coach, be afraid to go that road, to go through that tunnel because it doesn't matter if there's a freight train or a truck coming at you."
And when it comes to those young players, the sharp spotlight has been and likely will be on Wilson. Saleh said he has been impressed by his young QBs dedication and study habits.
"He loves to ball," Saleh said. "He is unflappable in the sense he doesn't care if something good or bad happened. He wants to know why, he wants to learn from it. He's wired exactly the way you want all players to be wired. Now it's a matter of him getting the reps."
He added: "I've seen the same thing [from Wilson] that I want to see from everyone. Get better."