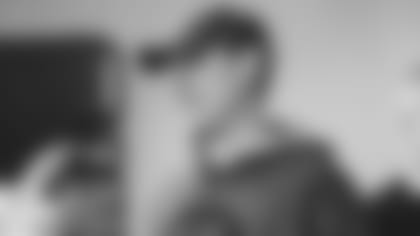 For a team looking to reverse its fortunes, free agency should not be viewed as a panacea. The NFL's most consistent winners typically develop their in-house talent and complement it with changing pieces in the modern era. But the New York Jets, who haven't made the playoffs since the 2010 season, can certainly get better this spring.
"We can help ourselves," new Jets head coach Adam Gase told WFAN's Mike Francesa last month. "We can improve quickly because we're able to bring in players that have done it before. We've seen it in the NFL."
According to OvertheCap.com, the Green & White are positioned $102 million under the projected salary cap and equipped with $96 million of what they define as "effective cap space." OTC uses that term to describe the maximum amount of cap space a team will have when it signs at least 51 players to its roster for a season. Those numbers grew this week when the Jets declined their contract options on LB Kevin Pierre-Louis, DT Mike Pennel and S Terrence Brooks.
"We have to find the right guys for us, the right fit, and make sure those guys want to be here," Gase said during his appearance with Francesa. "We have a lot of money right now, but at the same time there are going to be other teams pursuing certain guys and it's not only going to be money. Guys want to know if this is the right place for me and do I fit in to what they want."
Three years removed from guiding the Dolphins to a 10-6 mark in Year 1 in South Florida, Gase knows he will have to be flexible as the Jets begin to reshape their roster. But he has a good story to tell free agents, featuring a talented young quarterback, a star in the making at safety, one of the most respected defensive minds in the NFL and a special teams unit that was the best in football last year. Money also talks and the Green & White have the flexibility to go in a number of directions once free agency commences
"You kind of create your blueprint of what you think it's going to be. Maybe after evaluations are done, you see what pieces you add in free agency and the draft and you have to be flexible," Gase told Francesa. "You have to be ready from April through training camp, trying to figure things out as fast as possible and then once you set up training camp, it's still going to be an ongoing process of learning your team, learning your players. What do we do well? What do we need to stay away from? There are just a lot of little moving pieces that occur in this first year."