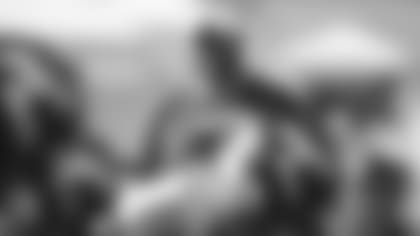 In his first draft as general manager of the New York Jets, Joe Douglas added a foundational pillar and a developmental piece for his offensive line, a playmaking receiver, two versatile, highly-skilled athletes for his defense, backups for two signature players on offense, a pair of cornerbacks and a punter.
"I think we are a better team right now than we were on Thursday afternoon before the draft started. I think that we were able to acquire high-quality players that are high-quality people as well. Time will tell how this draft class stacks up, but we feel good now," Douglas said. "We feel like our process was true. I feel like everyone was able to check their ego at the door and really have tough conversations. At the end of the day, we were able to find the right players to help the New York Jets. It doesn't matter who is right, all that matters is that we are right. So I think everyone bought into that process and we felt like it came into fruition this weekend."
Six of the nine players Douglas drafted were captains including all five of his picks on Day 3 as RB La'Mical Perine (Florida), QB James Morgan (FIU), OL Cameron Clark (Charlotte), CB Bryce Hall (Virginia) and P Braden Mann (Texas A&M) joined first-round T Mekhi Becton (Louisville) as players who wore the "C" on the collegiate level.
"Talent is number one when you're discussing how does a player fit on this team. Once you get the player slotted in the grade stack, then let's talk about this guy's fit in our culture and our building," Douglas said. "There has to be a baseline level of talent that goes into our discussions. It's not just the intangibles. You have to have the ability to make this team and make this roster better, and then the icing on the cake is the character, the makeup and the mentality and the intangibles that go into making this building and locker room better."
Entering the draft with clear needs at tackle, wide receiver, cornerback and Edge, Douglas landed the OL with arguably the highest ceiling in the 6'7", 364-pound Becton at No. 11 overall. Despite moving down 11 spots in the second round, he still picked up a big target on the outside who was a prolific scorer at Baylor (28 TDs over the past three season) with deceptive speed in Denzel Mims (R2, No. 59). Safety Ashtyn Davis (R3, No. 68) and Edge Jabari Zuniga (RD 3, No. 79 will provide Gregg Williams more options with his multiple packages and Perine (R4, No. 120) and James Morgan (R4, No. 124) give much-needed depth behind RB Le'Veon Bell and QB Sam Darnold. Cameron Clark (R4, No. 129) becomes another piece who will provide depth and flexibility on a completely revamped offensive line and corners Bryce Hall (R5, No. 158), who slipped until the fifth round because of an ankle injury and Quincy Wilson (T-IND), a former second-round pick acquired from the Colts in exchange for a sixth-round pick, immediately upgrade what was a position that needed more numbers. Special teams coordinator Brant Boyer stood on the table for Braden Mann (R6, No. 191) and he got the monster leg from Texas A&M in what turned out to be Douglas' final selection.
"I would say that this process went about as smooth as it could go under the circumstances. I think it was a real team effort from every department — from video to IT to coaching to personnel," Douglas said. "We all came together, and we embraced the technology and embraced Microsoft Teams. There was great communication back and forth. We weren't afraid to disagree; we weren't afraid to have tough conversations and I think it led us to some good players and a good overall draft."
While Douglas feels better about his roster than he did a few days ago, he cautions that the play of his first 10 (nine draft selections plus Wilson) will ultimately determine the success of his fist draft class.
"My main objective was to try and make this team better. I feel like we added a lot of high-quality football players," he said. "I think we are better after this weekend than we were prior to the draft starting. Ultimately it's hard to grade a draft and impossible to grade a draft after it happens.