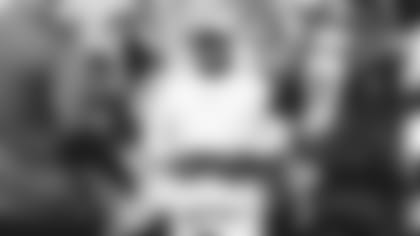 The Jets will head into the 2021 NFL regular season with great anticipation and also an acknowledgement that more adversity is on the horizon. GM Joe Douglas is continuing to revamp his roster and a new fleet of Jets are about to leave the runway for the first time.
Douglas said on Wednesday: "If my calculations are right, we're around 20 first- and second-year players, so that's almost 40 percent of the roster. There's a lot of excitement, a lot of energy. At the same time, there's going to be some ups and downs. The passion, the speed, the excitement that these guys play at and play with, it's been exciting to see during training camp and I know these guys are fired up to get going. As we prepare for Carolina [Sept. 12], I know the coaching staff is fired up to them as well."
Anyone connected with the Jets is fired up to see rookie QB Zach Wilson in regular season play. The BYU product, who was taken No. 2 overall by Douglas in last April's draft, had a strong spring and summer on the field and in the classroom.
"He's been everything we've hoped for coming out of BYU," Douglas said. "His passion for the game, the way he soaks up information, his process, his preparation, just the way that he gets ready for practices. I's been good being able to see him download this information and not making the same mistake twice. Obviously, his physical skills jump out — the way he throws the ball is just an effortless motion when the ball jumps out of his hands. He's been everything that we've hoped he would be coming out."
If Wilson continues to be that guy in the regular season, the Jets will be well on their way to turning the corner. Douglas and first-year head coach Robert Saleh struck similar tones on Wednesday at One Jets Drive, asserting it was necessary to build the right way so the Green & White can build a team for long-term success. There are no short-term fixes in the NFL.
"It's my job to stay out in front and see a big picture," Douglas said. "This staff is focused on win now, but we're all focused on win now. We're all focused on doing what's best for this organization this year and the future. I know Coach, and what I've been preaching since I've been here, is that we want to do this the right way. We want to build this foundation the right way, so that its long-term success and not just a flash in the pan. I feel like good about where we are in terms of the foundation of the team moving forward."
Since the day he was hired, Douglas has emphasized a foundation that featured strong offensive and defensive lines. After selecting LT Mekhi Becton with his first pick as GM of the Jets in April 2020, Douglas was aggressive last spring when he moved up to take another offensive lineman, USC's Alijah Vera-Tucker with the No. 14 overall selection. Then later in the offseason, Douglas jumped at the opportunity to add former Washington T Morgan Moses.
"Obviously there has been a lot of resources put into both sides of the lines," he said. "What we've done the last couple of years hasn't been good enough as a team as a whole, 9-23, wasn't good enough. But we're excited about this group. This group didn't really have time in terms of the O-line to get together and build that chemistry last year. You've seen that chemistry build this year by having another year here with George [Fant], with Connor [McGovern], with GVR [Greg Van Roten], adding Morgan Moses, who is an established vet who is an absolute stud and a pro's pro and then the young guys continuing to develop. I think you're really starting to see this group come into their own and then add on top of it this scheme and this coaching staff, I'm excited to see how this group does."
Despite losing prized free-agent pass rusher Carl Lawson to an Achilles tendon rupture during camp, Douglas remains bullish on his defensive line. He went the trade route this week to obtain Shaq Lawson from the Texans and the Jets GM says Shaq Lawson will bring a junkyard-dog mentality to the Green & White.
"Obviously tough loss, but injures are part of this game unfortunately," Douglas said of the Lawson injury. "The thing that gets you excited is we know that we brought in the right type of person and right type of player in Carl and also we have a great D-line group. There are some real passionate war daddies out there who just bring it every day and no one is feeling sorry for themselves. Everyone has Carl's back and Carl has everyone's back and these guys have bonded together.
"Look, adversity happens. Adversity happened early in the year, early in training camp and it's going to happen again. I think this group is wired to handle it."
Douglas also believes in Saleh who is wired to handle anything that comes his way. Saleh may be in his first year on the job, but he's an experienced leader and he won't waver when things get tough.
"Obviously you guys see the energy every day, you see the passion," Douglas said of Saleh. "What you guys probably don't see day-to-day is just the thoughtful nature of how he approaches everything. And then you see him and staff really create accountability and ownership. These team meetings are phenomenal and Robert does such a great job of having his finger on the pulse of every aspect of our team to offense, defense and special teams. And you see that at his team meetings and how he communicates with the team. I think his ability to really have his hand on the pulse of everything along with his passion, his people skills, his communication skills and the staff of great teachers that he brough in, it's been special to watch."