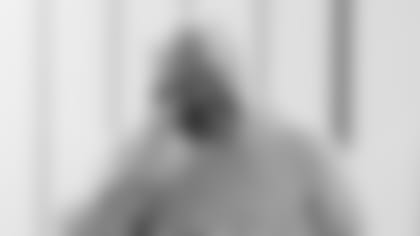 After selecting Iowa State Edge Will McDonald IV (No. 15 overall) and Wisconsin C Joe Tippmann (No. 43 overall) in the first two rounds of the 2023 NFL Draft, the New York Jets are scheduled to have three picks — Round 4 (No. 112), Round 5 (No. 143 and 170) — when the draft resumes Saturday.
There's typically a lower "hit rate" on Day 3 (Rounds 4-7) where general managers and their staffs look to add players who usually require more development than the prospects selected on Days 1 and 2.
"I always refer to that last day of the draft as 'Scouts Day' because most everybody knows about the players that are being selected in the first, second and third round," Jets GM Joe Douglas said. "Once we get into the fourth, fifth, sixth, seventh, these are the guys that the scouts really know like the back of their hand. They're going to have a form to stand on the table for guys they're excited about because these are the guys that can really make your draft special.
"Last year to add two guys like Max Mitchell and Mike Clemons on day three of the draft. We have a great opportunity to possibly add three or maybe more in this year's draft."
Clemons and Mitchell, both fourth-round picks in 2022, played significant roles for the Jets as rookies. Clemons, the No. 117 overall pick out of Texas A&M, played in 16 games for the Green & White. He totaled 36 tackles, 4 tackles for loss, 2.5 sacks and a blocked punt. Clemson took 311 defensive snaps and 235 snaps on special teams. Mitchell, pick No. 111 overall out of Louisiana, started five games last season before landing on the non-football injury list because of blood clots.
The Jets could stay put with their draft capital or Douglas could try and acquire more picks. In three drafts as Jets GM, Douglas has made eight draft-day trades – three trade-ups, four trade-downs and one in exchange for a player.
"There's conversations that happen each day before the draft starts," he said. "You never know what's going to happen until you get on the clock, though. You have a plan, you figure there's going to be some guys you're excited about taking when you're on the clock and then if there's some phone calls you field those calls, weigh the options. Is it worth trading back a few spots? Ok, how many guys are on the board that we are excited to take? Then (we) make a decision. Are we comfortable with doing that, making that move, or staying pat and taking a player? So, there's a process. I'm sure everyone has a process, but I feel like we have a good one."