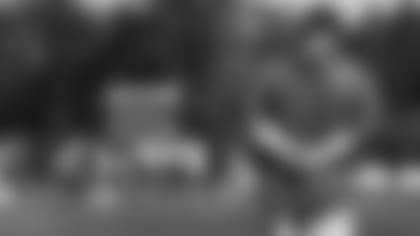 On Labor Day, the Jets entered the regular-season phase of 2020. Both Head Coach Adam Gase and General Manager Joe Douglas met simultaneously with the media during a Zoom call as the Green & White turned their full attention to Week 1 and the Buffalo Bills. Douglas had a busy weekend, cutting his roster to 53 on Saturday, assembling a practice squad on Sunday and then making a few additional roster moves on Monday.
"I want to take this time to thank all the players for their hard work and sacrifice whether they made the team or they didn't make the team," Douglas said. "But the guys on this roster are Jets and they're going to represent this organization and this fanbase well. They have the character, they have the competence [and] they have the commitment of what we're looking for when we talk about what we're looking for in a New York Jet. We're all excited to be in the regular season now."
Players on a Mission
After C.J. Mosley opted out of the season for family reasons and the Jets sent Pro Bowl safety Jamal Adams to Seattle, the team dealt with a number of injuries during training camp, most notably at wide receiver. Douglas said that the players are aware of the low expectations that many have for the Jets in 2020.
"Our guys don't live in a bubble," Douglas said. "We [hear] the things that are said and we see the things that are written and it angers a lot of people."
For weeks, Gase has expressed his confidence in the skill-position talent the Jets have on offense, and the defense and special teams units don't expect a drop-off under Gregg Williams and Brant Boyer.
"There are some guys on this team that might not be household names, but they're good football players and their mission is to go out and become a household name," Douglas said.
A Position Group Stands Out
Telling reporters that he's not ready to say that the team has checked any boxes and he'll continue to look to make upgrades, Douglas did acknowledge he likes the look of his revamped offensive line, which includes free-agent additions Connor McGovern, Greg Van Roten and George Fant, and heralded rookie Mekhi Becton.
"I'm not going to be happy until we win a Super Bowl," he said. "But I will say I've been impressed with the professionalism and the maturity and the mentality that our offensive line has shown throughout training camp."
Darnold Is Taking Steps
Despite the injuries on the outside this summer, the Jets have been encouraged by the play of QB Sam Darnold. Douglas is impressed with both the speed at which he is operating on the field and the leadership he is showing off the field.
"He's been in the league for three years and he's 23 years old," Douglas said. "He is going through growth much sooner than most quarterbacks his age have gone through in the National Football League. Just watching him and his ability to digest Adam's playbook and operate at a quicker pace, just that half-second quicker decision and quicker release, you see that in training camp and it fires you up. Just watching him grow within the offense and also watching him grow and mature as a person and as a leader and not being afraid to have tough conversations when he has to — that's just part of a 23-year-old quarterback becoming a franchise quarterback and maturing into that role and taking on more and more responsibility."
Money Matters
OvertheCap.com projects the Jets are $31 million under this year's salary cap plus $76 million under the cap projected for 2021. Douglas reiterated that he doesn't have any financial restrictions from ownership and he has full autonomy when it comes to roster decisions.
"A dollar you spend today could be a dollar you don't have for next year's cap," he said. "We are sitting here and we have a lot of uncertainty in terms of next year's cap numbers. We know what the floor is at 175 [million] and we also know that could change. We don't know when we will have the answers to that, so we have to have a game plan on how we are going to handle this year and next year and the years moving forward."
No Waiver Claims
Last September, Douglas claimed four players off waivers and three of them — WR Braxton Berrios, DE John Franklin-Myers and S Bennett Jackson (practice squad) — remain with the program. But with no preseason games meaning no new film on players plus COVID-19 testing protocols, the Jets elected not to use the waiver route Sunday.
"We were at the position this year where we felt that there are challenges to get guys in and we feel good about the depth in the roster that we have," Douglas said. "On the waiver wire, it had to be a special player for us to really pursue hard."
Bills Provide an Opportunity
With Tom Brady out of the division, some pundits believe the Buffalo Bills should be the favorites in the AFC East. The Jets, a club that ended the 2019 season with a 13-6 win in western New York last December, will open the 2020 campaign as an underdog in Western New York.
"We're going to be where our feet are," Douglas said. "Right now, we have a great challenge in going up and facing a division opponent, an opponent who was in the playoffs last year. I know there are a lot of hungry guys who just want to go out there and prove a lot of people wrong frankly."