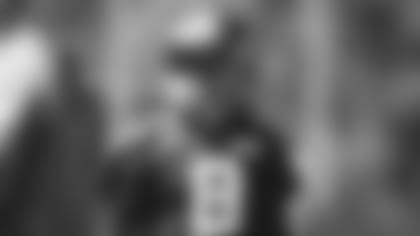 Perhaps we're reading too much into it, but the Jets' annual preseason game with the Giants on Saturday night seems to have just a little more zing than usual.
It's likely a combination of factors, leading with Aaron Rodgers making his Jets game debut at QB. Also, MetLife Stadium will be filled mostly with Giants fans for Big Blue's home game, but with a healthy splash of green and white throughout the stands. Then there are those ubiquitous "Hard Knocks" cameras.
Did we mention that these stadium rivals will play again this regular season, Oct. 29, also the Giants' home game but with the Jets coming off their bye week?
Most important for the visitors, of course, is Rodgers getting his game baptism in his new shade of green, alongside many of his key offensive mates, at the skill spots and just as important on the O-line, before the regular season starts Sept. 11.
"I'm not sure how long it's going to be," Rodgers said, "but it'll be good to be out there with the guys."
"It'll be fun. ," Saleh said. "I'm not holding onto any result. It could be a couple of three-and-outs, for all I know. I just want them to go out there and get their feet wet."
The Giants have a lot to say about the level of juice in this game, too. Besides being the hosts, they journeyed farther in 2022 under the direction of first-year HC Brian Daboll, finishing 9-7-1 and winning a playoff game compared to the Jets' 7-10 fade from their 7-4 start.
The blue team has key performers of its own in QB Daniel Jones possibly handing off to RB Saquon Barkley, then throwing to a few targets that include veteran TE import Darren Waller — who had a career day as a Raider at the Jets in 2020 with 13 catches for 200 yards and 2 TDs — and WR Jamison Crowder — the Jets' leading pass-catcher from 2019-21.
Defensively, LB Kayvon Thibodeaux, who sacked Carolina rookie Bryce Young last week, could be roaring off the Jets' left end as, among the LT candidates, veterans Duane Brown, just returned to practice this week, and Billy Turner possibly trying to slow the second-year man's edge pursuit of Rodgers.
Besides ARod, the Giants have a little more personnel familiar with the "Mayor's Trophy Game" aspect of this rivalry — the teams' 54th preseason matchup in the last 55 years, making this the NFL's most revisited summer rivalry. For the Jets, players such as TE Jeremy Ruckert, LS Thomas Hennessy, and injured rookies RB Israel Abanikanda and G Carter Warren know about the rivalry from their high school careers in the New York area. Not to mention Jets second-round rookie OL Joe Tippmann, who heard a thing or two about this game from Jason Fabini, Tippmann's coach and the longtime Jets tackle.
But the Giants have four veterans with Jets connections who have even played in past Jets-Giants games as members of the Green & White. The most senior of those is DT Leonard Williams, the Jets' sixth overall selection in the 2015 draft who was traded to the Giants in 2019 and has been a D-line mainstay for them ever since.
Williams even has made contact with Rodgers in the past, registering a sack and another, even harder, QB hit on the then-Green Bay QB when the Packers visited the Jets in '18 and went home with a 44-38 overtime victory.
Also on the Giants' roster besides Williams and Crowder: TE Lawrence Cager (Jets WR in '20, TE in '22) and CB Jason Pinnock (Jets 5th-rounder in '21, Giants starting S for his second year).
As exciting as this game could be, and as much as any player or fan might enjoy seeing his team take the lead in the all-time regular-season/preseason series, which now stands at 33-33-1, Saleh is looking for something a little less nerve-jangling.
"Come out healthy, that's it," the Jets' third-year coach said of his goals for this final game of summer. "Win, lose, it doesn't matter. Just go out there, let everybody feel what this offense is going to feel like, what the defense feels like. And then get off the field and get ready for Buffalo."
Game Notes
In the Jets' 31-27 home win over the Giants last summer, WR Denzel Mims caught seven passes for 102 yards and a touchdown, Mike White and Chris Streveler combined for four TD passes, with Streveler hitting Calvin Jackson with the 5-yard game-winning score with 22 seconds left. ... The previous August, the Jets prevailed, 12-7, with DL Bryce Huff recording two of the defense's five sacks.
The Jets' preseason wins in 2021 and '22 have given them a 27-25-1 edge in the summer rivalry that began in 1969 and has been the NFL's most renewed preseason rivalry. ... But MetLife Stadium has not served as a homefield advantage in this series. In all RS and PS games combined, the Jets are 5-2 at MLS since 2010 when they're the road team vs. the Giants, but they're 2-6 as the home team.