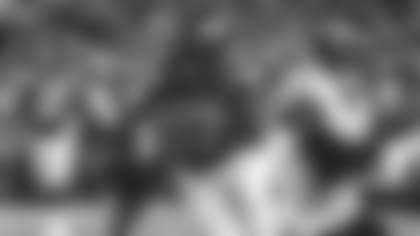 Garrett Wilson cracked the 100-yard mark receiving in a game for the first time this season in last week's nail-biting overtime win over the Giants, but it was his 29-yard reception to start the Jets' furious game-tying drive that unfolded in the final 24 seconds of the fourth quarter that stands out.
Part of the reason is because, after QB Zach Wilson was sacked on fourth down in the previous series, the Jets' chances of winning the game were pretty slim, with a dash of none.
"I was hot," G. Wilson said about his walk off the field. "I was upset. It felt like we lost the game at that point. With that said, I was thinking we lost the game. If we got another opportunity to go out there, in the back of my head, it was be ready.
"The reality is that I'm pretty upset. I feel we lost the game."
Although G. Wilson is only in his second season in the NFL, the 2022 first-round draft pick was a key player as a rookie in Week 2 last season when the Jets again left it late in a come-from-behind win at Cleveland. Playing in front of many of his family and friends who followed his career at Ohio State, G. Wilson notched his first 100-yard game in the NFL, against the Browns (8 receptions/102 yards). More importantly, with 25 seconds left in the game and the Jets trailing, G. Wilson caught a 15-yard pass over the middle from QB Joe Flacco to tie the score, 30-30, before Greg Zuerlein converted the PAT for a 31-30 win. G. Wilson's TD catch capped a 14-point rally in 1:32.
Fast forward to the 13-10 win over the Giants, and G. Wilson and his teammates are the first to recognize the furious, late comebacks are rarely the blueprint for consistent success.
"We're definitely trying to figure out why we're so good in those types of circumstances and why we're not in the other 59 minutes," he said. "We have to try to make the rest of the game feel more urgent to unlock things. We've been doing it later in the game, but we have to make it so we don't have to have a heroic drive every game.
"We've taken note of that even before this past week. We have to make sure it's bottled up and translated to the whole game, because the reality is we had no business winning that game and when you rely on stuff like that at the end of the game — you're not going to win that many. We got to get it going early."
Riding a three-game winning streak ahead of Monday night's visit by the Los Angeles Chargers (3-4), the Jets (4-3) have authored comebacks this season in each win (Buffalo, Denver, Philadelphia and the Giants) and came close to dispatching the defending AFC champion Kansas City with a late surge that fell short.
Asked about the team's impressive resilience, G. Wilson said: "I think it starts with how we are training, how we practice in OTAs, training camp and throughout the season. It is not the way a lot of the league does it. It's about how hard we practice, the way we finish up on the field. It's not about saving your legs — it's about straining so when the game comes you can go a full 60 minutes and play your best football when it matters most. When you do things that way, you're going to respond on Sunday. Think we have the right guys here. It doesn't happen overnight, it's something we've locked in on and are trying to make it our identity. It doesn't just happen on Sunday."
So far this season, G. Wilson has 39 catches (in 68 targets) for 469 yards (12.03 yards a catch) and 2 TDs and has been on the field for 90% of the snaps on offense. But he, and everyone from HC Robert Saleh, to OC Nathaniel Hackett to Z. Wilson and every player on offense, know the group needs to improve its performance on third down.
Through 7 games, the Jets are last in the league, converting 22.99% overall. Last game the number was 13.33% (2 of 15) and the number over the three-game winning streak is 18.42%. G. Wilson has been credited with 20 catches that resulted in first downs.
"Personally, I think we can do some new things and see where that goes," G. Wilson said. "We're not where we want to be on third down, and I put that on my plate not being open when it matters most. I have to be better when they [opposing defenses] know we have to pass the ball. I feel that will help as well if I'm doing my job and 100 percent open. That might open up something else to give Zach quicker looks, so we're not taking sacks on third down. We're going to try some new things this week and see how that works."
See the Jets back on the field on Thursday to start Week 9 practices.