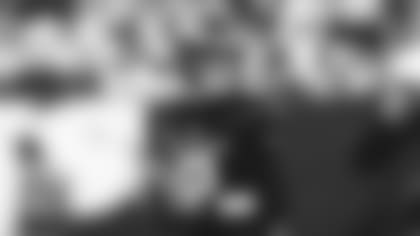 For a whole lot of football folks and fans, what the Jets need to do in the free agency period, which officially begins March 16, and in the draft some five weeks after that, is simple: Take care of the cast of players around now second-year quarterback Zach Wilson.
That's exactly what general manager Joe Douglas said at the start of the since-completed NFL Combine: "One avenue to help the quarterback is the playmakers," Douglas said. "There's also the other way to help, which is defense — get him the ball back as often as we can."
Not surprisingly, many of the draft analysts agreed with that approach when the Jets 360 microphone caught up with them in Indianapolis.
"I think everything this offseason, free agency and the draft, has to be about putting pieces around the quarterback," said Judy Battista of nfl.com about Wilson. "We've seen the formula. I don't want to say they're going to the Super Bowl next year, but you saw what the Cincinnati Bengals did [with QB Joe Burrow]. You get the young quarterback and then you start putting pieces around him."
The smooth Sirius XM "Movin' the Chains" team of Pat Kirwan and Jim Miller concurred.
"You need offensive linemen, you need pass rushers," said Kirwan, the onetime Jets director of player administration, coming at the Jets' big question from both trenches. "The pass rush group depends on how you see guys, how much you want to invest in them. A guy like [Arizona edge] Chandler Jones probably still has situational play left in him. ... He's had some issues but he still can rush the passer.
"Then on the offensive line, [New Orleans T] Terron Armstead's there, [Washington G] Brandon Scherff's there, [Tampa Bay C] Ryan Jensen's there. A couple of teams like Cincinnati are trying to fortify their line as well, so there's going to be competition for those guys."
Miller, the former Steelers and Bears signal-caller, stayed strictly on offense for his response.
"I think the needs are there on the offensive line," Miller said. "Do you want a veteran line to protect a young quarterback? That's the route Buffalo went. Four of their starters were free agents that they signed, so [for the Jets] maybe a veteran group and then let Mekhi Becton continue to develop and get better. Then the Bills surrounded their young quarterback with talented players, made the trade for [WR Stefon] Diggs. ... I think a lot of it is about the quarterback and really getting the support staff, the supporting group around him to really help him out."
ESPN NFL reporter Field Yates focused on two of those positions that could help out Wilson and the Green & White offense.
"Wide receiver and tight end strike me as spots where, depending on how some things shake out internally could be areas of need for the Jets," Yates said. "You've got top wide receivers in Chris Godwin [since franchise-tagged by Tampa Bay], Odell Beckham Jr. [last with the Rams] and [Dallas WR] Michael Gallup that are all coming off ACL tears. ... Maybe one of them says, 'I might take a one-year deal as opposed to a multiyear deal because I want to get back to full strength."
Then at TE, even with Dallas tagging Dalton Schultz and Miami doing the same with Mike Gesicki, Yates said, "You've got a lot of guys at that tight end spot. It's a very, very deep group this year that I think will produce four or five legitimate contracts this offseason."
NFL insider Adam Caplan underscored his belief in the Jets' need for a TE, among other positions.
"Certainly there's no doubt that they'll draft a tight end. Now if you want to go sign a veteran, sure, they need depth there as well," Caplan said.
And Caplan's mention of the D-word brings the Jets' situation heading toward next week into a little better focus. Free agency is one way Douglas, Robert Saleh and company can improve the team, but it's not the only way.
"The best news for you guys," Kirwan told newyorkjets.com, "is that this draft is loaded, I think, at the two positions that, if I was with the Jets still, we'd be looking at — offensive line and pass rushers. So it works out really nicely for you to repair some of your issues."