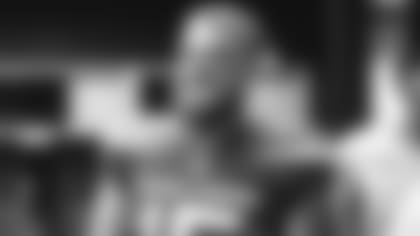 Friday night, the Jets fourth-string quarterback who was added to the Jets roster in late July, answered that question: He is a backup ready to answer the call.
With the Jets' down to two QBs (Zach Wilson was out injured; Joe Flacco did not dress for the game), Streveler improbably tossed two fourth-quarter touchdown passes, including a game-winner with 22 seconds left in the game to lead a comeback victory over the Philadelphia Eagles, 24-21, in the first contest of the preseason.
"They had told me to be ready," Streveler said. "And then this morning when Joe [Flacco] wasn't playing, the coaches' kind of said you might get in."
Before Streveler's heroics, Wilson started and injured his right knee during a non-contact scramble late in the first quarter. Wilson's first two possessions resulted in no points and 33 yards of offense. Streveler was not aware of the situation's severity, but wished him the best.
"Obviously, there is a concern for him and just hope that everything's good," Streveler said. "But I don't really know what's going on."
Mike White replaced Wilson and played the majority of reps, throwing for 98 yards on 10-of-20 passing.
The series of events cleared the way for fans to finally find out who the enigmatic No. 15 hanging around practice is.
Streveler signed with the Jets as a free agent after NFL stints with the Arizona Cardinals, the Baltimore Ravens and the Miami Dolphins. He was part ofa Grey Cup championship run with the Canadian Football League's Winnipeg Blue Bombers in 2018.
During camp, Streveler took zero reps in team periods and not until Thursday did he get a few reps in walk-through.
"I got a couple of reps just to like work through the kinks on my cadence with everybody," he said. "And then once that was smoothed out, I was just going out and playing football."
With his fourth team in nine months, Streveler was comfortable with a fluid situation, and ready when HC Robert Saleh told him to get readywith two minutes remaining in the third quarter.
"You just never know when that opportunity is going to come," Streveler said. "And for me, throughout my career, having been in so many different places, I just feel like whenever things get frustrating and you're not getting reps or anything like that, you just got to just keep pushing because you never know when that opportunity is going to come, and mine came today"
Streveler's night began with a three-and-out to end the third quarter. Then in the fourth, he got batted around by the pass rush before finding  comfort with the speed of the game.
"Throwing that first pass and taking a hit, it's just a moment you realize you're just in the game," he said. "I have played football my whole life, so it was really fun to get out there. And I'm thankful for the opportunity to get to play today and had a lot of fun."
On the first drive of the fourth, Streveler hit tight end Lawrence Cager for 29- and 11-yard gains — rolling out on both plays — as the Jets moved to the Philadelphia 3-yard line. The drive stalled before Mike LaFleur got Streveler on the move again. Rolling to his right on fourth down, Streveler found rookie tight end Jeremy Ruckert wide open for a touchdown to take the lead, 17-14.
The Eagles answered with an 18-play 75-yard touchdown drive, ending with 1:46 remaining. Streveler only needed 1:24 to answer.
The former University of South Dakota QB produced a 53-yard drive in 6 plays, ending with a touchdown pass to undrafted free-agent receiver Calvin Jackson in the deep-left corner of the end zone, this time from within the pocket. His final stat line read 6-of-9, 62 yards passing and 2 touchdowns.
"That first ball I threw got tipped and completed," Streveler said. "And that is kind of like the biggest thing for two-minute drives, just putting the ball in play as early as you can and getting a positive play. From there, we just hit off a couple."
Using a lot of play-action and scramble plays, Streveler showed his athleticism by rushing for two first-downs. The CFL's co-rushing touchdown leader in 2019 ran for 31 yards on two attempts, including a 23-yard scamper down to the 4-yard line on the game-winning drive.
Streveler has confidence in his ability and the experience in the QB room.
"This is one of the best quarterback rooms I've ever been around," Streveler said. "It's been really fun for me to be a part of that room and get to grow with those guys and learn. And just the collaboration between all those guys, I think it's going to make for some good offense."