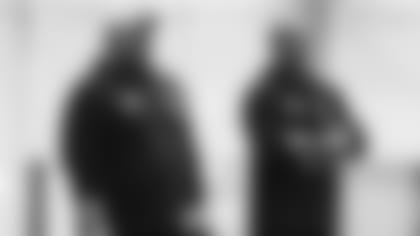 NFL teams' ventures into unrestricted free agency over the years have been described as everything from "spendthrift" to "threadbare."
For the Jets' approach to free agency this year, head coach Robert Saleh had another word in mind.
"You probably should ask Joe that question," Saleh told reporters Thursday, referencing general manager Joe Douglas on how he would describe the Jets' plan of attack for this year's signing period. "But judicious, I guess. There are certain places we need to improve on, but obviously the draft is going to give us some of those opportunities. The quarterback position, liked we've talked about. As far as defense, just making sure we can run it back with the guys we have, and then offensively, seeing if we can be judicious in our approach."
Douglas, not surprisingly since he and Saleh have developed a strong working relationship no matter what page of the calendar is showing, agrees with his head coach, again uttering one of his offseason mantras, "right player, right price."
"I say it every year after the season's over: Our most important meeting is getting with our coaching staff, going over our own team, and going over our depth chart with a fine-tooth comb," Douglas told Ethan Greenberg of newyorkjets.com. "We talk about the guys that are on the team for the next year, about the guys that are on expiring deals. We determine what are really the needs that we need to attack. Then our coaches and scouts go to work and really set the landscape for the best players available.
"So in terms of philosophy, it's just right players, right price. We're going to have our positions and our players we're looking at. But we're always going to have a pivot, so that if a player exceeds a price, OK, what's our pivot? If a player decides to go elsewhere, OK, what's our pivot. I feel like that's one of the things we've done well in free agency. We've been able to pivot and get some pretty good players."
Veteran quarterback is one of those positions the Jets are examining very closely. That makes the next two weeks before the March 15 start of the free agency signing period especially critical, if, in fact, the team opts to go for a UFA veteran as opposed to a traded player or a street free agent such as Derek Carr, who has already had two visits with the team.
"Looking at the entire landscape at other positions but specifically the veteran quarterback landscape, we feel like we have a really good plan in place," the GM said. "We're still going through our process, and when it's time to make a decision, we feel like we're going to make the best decision for the Jets."
And included in that decision is the cost of such a transaction. Green & White observers have concerns about fitting a pricy veteran signal-caller under their salary cap, but Douglas' advice is not to worry.
"I think we have a lot of flexibility still," he said. "Nick Sabella and Dave Socie on our football administration side do such a great job. So right now we're a little bit over the cap. We feel comfortable in our ability to be where we need to be once the league year begins. We have some different avenues to get to where we want to go. We've maintained that flexibility through the last few years to be in this position. If we need to create room to get a player that we need, we have the ability to do that."
Besides QB, what other positions might the Jets be interested in adding to their roster? As Douglas said earlier this week, looking hard at all the offensive and defensive line options is always a priority for him, and his head coach concurs with him on that emphasis.
"You know how Joe and I feel with regards to our offensive and defensive lines," Saleh said when asked if he'd prefer to stand pat with the experienced tackles he has on his roster now or add a veteran to the unit in free agency. "I joke about it, but to every joke there's a little bit of truth. Joe would have 52 offensive linemen on the roster and one quarterback, if he could."
Saleh was jesting, of course. Both he and Douglas know that wouldn't be judicious.