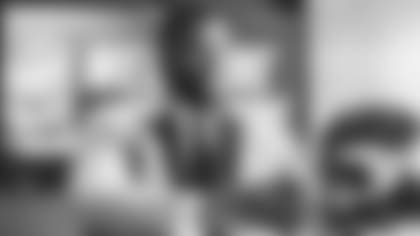 The Jets have been busy through two days of the NFL's free agency signing period. And a quartet of themes resonated as the first wave of new veteran additions sat in front of the camera and chatted with the media covering the Jets. Call them the four C's: culture, championship, comfortability and confidence.
C.J. Uzomah, the tight end who teamed with QB Joe Burrow and helped Cincinnati reach Super Bowl LVI, was all over the culture angle as he compared and contrasted the Bengals and Jets programs.
"There are definitely some similarities," Uzomah said about his old team and his new team, "but there are differences as well. Coming here, talking to the strength staff, the medical staff, the dietician, thinks like that, it's different, it is, to me. In a good way. I'm smiling for a reason. But there's definitely similarities in terms of the shift in culture, the shift in ideologies, the shift in who we were compared to where we want to be and where we're going. That was something that's very enticing to me."
Part of building a new culture is leaning on players who have been there, done that. Uzomah got to the big dance last month. Guard Laken Tomlinson reached the Super Bowl with the 49ers after the 2019 season. Safety Jordan Whitehead won an NFL championship as a 20-game starter (including four playoff starts) in the Buccaneers' deep middle in 2020.
"When I was at Tampa, we started off with two losing seasons. The next thing you know, we won the Super Bowl," Whitehead said. "A lot of people say it was Tom Brady and all that. It takes one guy, one mindset to just change the whole season. What the Jets did last year versus the Bucs just showed what they have. They already have a winning mindset. You just add a couple of pieces and you can change this thing around.
"That's what I want to be, one of those pieces to help change this around."
Comfortability and familiarity with people already in the Green & White environment also had a hand in bringing several of these unrestricted free agent veterans to One Jets Drive. Whitehead, as fans have heard, is Darrelle Revis' cousin and was at Revis' 2007 Pittsburgh draft party once the Jets had picked him in the first round out of Pitt. Before CB D.J. Reed moved on to Seattle, he played his first two NFL seasons in 2018-19 under Jets HC Robert Saleh when Saleh was the Niners' defensive coordinator.
Guard Laken Tomlinson also got to work on the same San Fran teams as Saleh and Mike LaFleur, now the Jets' OC. And Tomlinson gives a lot of credit to another current Jets coach he worked closely with on the 49ers in offensive line coach John Benton.
"I'd say I got lucky in matching up with people there at the time," he said of seeing his career take off on the West Coast after two less dynamic seasons with Detroit. "Everybody in the building made everything smooth for me. Credit to John Benton as well. When h got me there, he began coaching me up and getting me in the starting lineup as soon as possible."
The fourth C, confidence, is a quality the new Jets have in abundance. They seem far from being cocky but have an unflinching belief in their skillsets and how they can help their new team, going back to the top of this story, continue to build its culture. Whitehead's calling card is his hitting ability: "I just always liked those big hits ... I definitely pride myself on that."
Reed said people may look at his 5-9 height and say he's a good second cornerback, "but no, if you watch my tape from last year and the year before that, it's CB-1. My stats compare to the All-Pros this year, to Jalen Ramsey, A.J. Terrell, J.C. Jackson, my stats are right there wtih those guys. And I'm going to take another step this year."
And the loquacious Uzomah left no doubt about his self-image when asked what Jets fans can expect out of him on the field.
"They're going to get me, all of me, unapologetically myself. I'm going to be saying a lot of stuff, doing a lot of things. They're going to get someone who's going to be a force blocking and someone who, when I get the ball in my hands, I don't like being tackled.
"So they're going to get someone who's one of the best damn tight ends in the league. That's what they're getting."
Signed from other teams: G Laken Tomlinson (49ers), TE C.J. Uzomah (Bengals), S Jordan Whitehead (Buccaneers)
Re-signed: WR Braxton Berrios, S Lamarcus Joyner, DL Nathan Shepherd
Other signings not confirmed by the team that are on the Tracker:
Signed from other teams: TE Tyler Conklin (Vikings), DL Jacob Martin (Texans), CB D.J. Reed (Seahawks)
Re-signed: RB Tevin Coleman, OL Dan Feeney, QB Joe Flacco