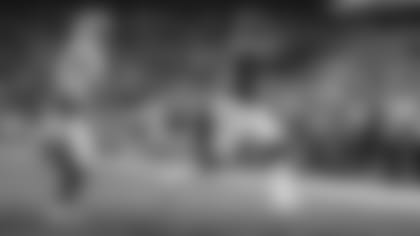 It wasn't the smoothest of preseason home openers for the Jets at MetLife Stadium tonight.
New Orleans moved right down the field on the game's first drive. The Jets were outgained by a 2-to-1 margin in the first half. C Ryan Kalil didn't play, as head coach Adam Gase thought he might, nor did Le'Veon Bell or Trumaine Johnson, as we knew they wouldn't. Thirty-one penalties, for 271 yards, were marked off against both teams combined by ref Brad Allen's crew. In the fourth quarter the hosts gave up a punt-return touchdown to Deonte Harris, a safety when they called for holding in his end zone, and a field goal after the free kick.
But before the fourth frame, there were still a few good points to ponder in the Jets' 28-13 loss to the Saints, who were one missed pass interference call away from a Super Bowl berth in January. Here are three observations from tonight's game:
1. Quick Brees Blows Through
Drew Brees doesn't play much in the preseason, just 44 snaps in two games the previous two summers. This year it will be only eight plays, but those eight at the start of tonight's game moved the Saints 72 yards to an opening touchdown against the Jets' thin secondary before Brees was replaced with Jet-for-an-offseason Teddy Bridgewater. Brees completed four of six passes for 68 yards, including a 25-yarder to Alvin Kamara out of the backfield and a 19-yard pinpoint score to WR Michael Thomas. Sam Darnold and the Jets offense, with two opening-drive TDs the previous two games, couldn't match the Brees TD immediately because Ty Montgomery lost a fumble on a running play.
2. Sam Responds
It took Darnold until his fifth drive, against New Orleans' second defense, and having taken a few good shots from the Saints, before he found some rhythm. He led the Jets on a seven-play, 65-yard drive to a 2-yard floater TD pass to Montgomery to get the Jets within 10-7 with 8:22 left in the first half. A major part of that drive was his 41-yard hookup with Robby Anderson, who flew downfield, then curled in past CB Patrick Robinson to secure the ball at the NO-19. Darnold exited with a 110.1 passer rating for the game and a 120.6 rating for the preseason, which is now over, assuming he rests for Thursday's Philadelphia finale and gets ready for the regular-season opener against the Bills.
3. Taylor-Made Opportunity
Before the game, Jets GM Joe Douglas said of K Taylor Bertolet, who'd been good on FGs, not good on extra points, "Taylor has had a great week of camp and we're going to support him. This is a big night for him. We're going to evaluate him and see how he does, but he had a good week of camp." Well, this night was pretty good, too. Bertolet hit his first kick, a PAT, then pinwheeled a 48-yard field goal through from the left hash, then dropped a 56-yarder over the crossbar and down the middle from the right hash. The Jets have had longer preseason FGs on the road (Jason Myers hit from 58 yards at Philly last year). But since 1970, Bertolet's kick is the longest by a Jets kicker at home in the preseason, and no Jets kicker has ever converted from longer than 55 yards at home in the regular season.
See Best Images of Week 3 During the Preseason