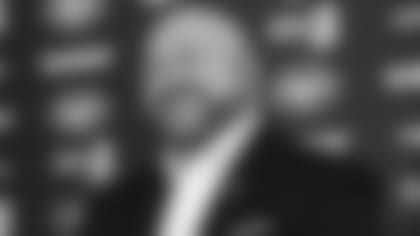 This second Jets draft for general manager Joe Douglas and first selection meeting as Green & White head coach for Robert Saleh presented some interesting angles for the team and its fans.
One was in executing something that NFL Network uber-host Rich Eisen said he'd never seen happen in a draft before in selecting two players with the same name: RB Michael Carter from North Carolina in Round 4 and CB Michael Carter II from Duke in Round 5.
"MC and MC-2," Saleh joked. "When we took Michael Carter the running back, ESPN threw up Michael Carter II on the screen and we were like 'Whoa, wait a minute.' But we had the right one, and lucky for us Michael the Second was able to fall to us. ... We're excited to have them both."
"We were trying to corner the market on Alijahs and Michael Carters," Douglas added, referencing 1B pick G/T Alijah Vera-Tucker and second-round WR Elijah Moore.
But as interesting as those nuggets are, as well as the fact that the Jets took offensive players with their first four picks for the first time since the 1983 Ken O'Brien draft, then made six straight defensive picks for the first time since, well, probably the 1966 AFL Draft, when they took seven straight defenders from Rounds 12-17, ultimately they're all just draft trivia.
One element that truly matters about the 2021 Jets draft is that Saleh and Douglas, "getting on the same page," stocked offense and defense further with players who appear to be snug fits for what the Jets' new coaches want to do on both sides of the ball this season.
Offensively, the West Coach principles and wide zone blocking that coordinator Mike LaFleur is preaching would seem to be right up the alley of QB Zach Wilson, OL Vera-Tucker, WR Moore and RB MC-I. Indeed, Wilson said Thursday night, "If I had to write exactly the offense I'd want to play in, it would be right there." And Carter, who was introduced as a Jets pick Saturday by assistant coach Leon Washington and even has a little of the look and size and offensive dynamic of Neon Leon from 2006-08, said, "I've been running pretty much wide zone since I was born."
Then there is the sixpack of defenders, split up into three corners (Carter II, Jason Pinnock, Brandin Echols), one sixth-round DT "steal" (Jonathan Marshall) and two safeties who look like naturals at linebacker for Saleh's and D-coord Jeff Ulbrich's 4-3 (Jamien Sherwood and Hamsah Nasirildeen).
"They're two very long, fast, versatile athletes," Saleh said of Sherwood, from Auburn, and Nasirildeen, from Florida State. "What we kind of ask out of our linebackers is to run, hit, use their speed and coverage ability.
"I don't know if it's the new NFL, but we just look at it differently in our scheme. ... We feel they'll be able to translate to linebacker pretty easily."
Meanwhile, at corner, none of the three draftees had that big-name cachet, but add them to the CB room with the likes of Bless Austin, Bryce Hall, Lamar Jackson, Javelin Guidry, UFA signee Justin Hardee and others and Saleh likes what he sees.
"I just love the competition that we brought in," the HC said. "Michael Carter II is tremendous physically and mentally, being able to absorb information and playing multiple spots. Jason [Pinnock], from an analytics standpoint, his production is off the charts. They all bring a different style to 'em. They're going to get every single opportunity to compete and make an impact on this team."
And that's the last point to be made here about the Jets' just concluded draft. There's a little more of the Douglas building process going on, a little more of the Saleh "he loves ball" and "All Gas No Brakes" mentality emerging.
"Obviously a lot goes into these last few days, and we're not done yet," Douglas said before Mr. Irrelevant was crowned Saturday evening. "We're going to get through the final pick and then we'll start on undrafted free agency, which is a key part to finishing this draft up the right way.
"We've had a chance to add 10 players via the draft and 11 players in unrestricted free agency," Joe D continued. "We're excited about these guys, about the competition we're going to create, the depth we've added. So I do feel we've improved ourselves throughout this offseason. And the offseason's not over till training camp starts."