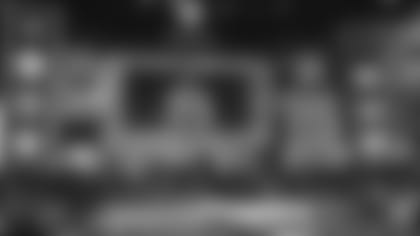 Some NFL head coaches want general manager as part of their titles. Some want control of personnel. "If they want you to cook the dinner," one coach famously said, "at least they ought to let you shop for some of the groceries."
In this regard, Jets head coach Adam Gase is more chef than shopper.
"I'm here to help when I'm asked to help," Gase said of his role in the Jets' draft process as the Green & White approach another important first round on Thursday night.
That's good, of course, because in the Jets' hierarchy, Mike Maccagnan is the GM and he and his front office are the "shoppers." But that's OK, as Gase explained after the first day of the Jets' voluntary veteran minicamp Tuesday.
"He's given me plenty of guys to evaluate," Gase said of Maccagnan. "So that's part of the process. It's really no different than what I've done in the past."
In fact, Gase explained at his introductory news conference in January that even though he had personnel control with the Miami Dolphins, it wasn't something he sought.
"That's just kind of how it worked out in Miami," he said then. "That was something that was really almost offered up, 'We think this is the way we should go.' And in Miami and here, I didn't even ask. I just knew coming in here that it was going to be a team effort, to make sure I do my part, which is coach the team."
Maccagnan explained the division of labor during his separate predraft news conference Tuesday.
"Obviously you want input from scouts, who put a lot of time into this. The coaches obviously put quite a bit of time into this, and they obviously have an idea of what they're looking for and what fits their scheme and system," Maccagnan said. "In a perfect world, you always want to have everybody seeing the same way or coming together.
"There's always going to be differences of opinion. I do think it's important, even though you're the general manager and it's your responsibility to make the pick or finalize the order, you view it more as what you think of as the Jets order. You have input from all sides, but in the end you're tasked with trying to pick the right player at the right value. I tend to belie it's a very balanced process. Everybody has an interest in ideally getting a good player for the Jets."
Precisely how Gase sees the division of labor with his new team.
"This is their expertise. These guys wait all year to do this. They spend so much time on backgrounds and film — they've watched way more film than any of us ever could because that's what they do all year round," Gase said of the eternal scouts vs. coaches predraft debate. "I always look at it as I'm here to be a guy that can be part of the process, be able to help where I can, kind of explain what we're looking for.
"Their deal is to go get 'em."
And give Gase and his team of sous chefs and line cooks just the draft ingredients they need to whip up the best damn season of soufflés possible in 2019.