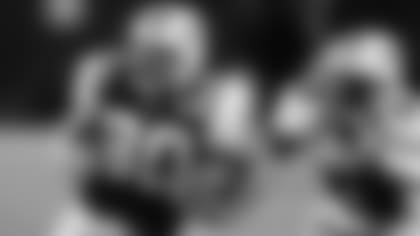 We're bringing classic Jets games to the Twitter era. Watch on YouTube and follow along Monday night at 8 p.m. as @nyjets live tweets Jets vs. Dolphins from Oct. 23, 2000.
For different reasons, a whole lot of people are very happy with tonight's Monday night NFL matchup.
ABC, for example, has to thank its good fortune that the Jets and the Miami Dolphins, unknown quantities under new head coaches succeeding legends back when the NFL schedule was unveiled in April, have found their way to 5-1 records and will do battle for sole possession of the AFC East.
Baseball fans not too snobbish to acknowledge that other sports exist during the World Series fortnight are overjoyed to have a top-shelf football game to tide them over until their purchase of subway tokens.
And the Jets and 'Fins are both pleased to have a national stage on which to show that their defenses are strong enough to travel all the way into the postseason.
In fact, both teams have a chip on their collective shoulder pads. For the Jets, it's the defensive players who feel ignored due to the hype for the Buccaneers' defense before their fourth-game comeback and now the Dolphins, who lead the NFL in allowing just 51 points and three touchdowns.
"We're just as aggressive as they are,'' said strong safety Victor Green. "They have a lot of speed and I think we've got speed as well. Talent-wise and scheme-wise, I think we're pretty special.''
"Every time you overlook us,'' said linebacker Mo Lewis, "we kind of take it personally.''
But the Dolphins are of a similar mind about the lack of respect their entire team has gotten around the country.
"We were picked by quite a few people to finish last in the division,'' said defensive end Trace Armstrong, whose 10 sacks lead the NFL. "A lot of things were said and written about this team, and normally I don't think it affects a team, but it affected this one, particularly on defense. We think people forgot about the type of defense we played here the last couple of years.''
So this prime-time affair — the eighth all-time on Monday night between the archrivals, with the 'Fins holding a 4-3 edge — figures to turn on whose offense holds up better under the expected onslaught.
On paper, that should be the Jets, who have been riding Curtis Martin's coattails all season. And despite quarterback Vinny Testaverde's sore arm and problems in delivering the ball to wide receivers Wayne Chrebet and Dedric Ward, they have been getting more help from rookie wideout Laveranues Coles.
"I think Laveraneus is coming on real strong,'' said Chrebet. "He seems to get stronger and stronger each practice and each game.''
The pressure will be on the Jets' interior line — center Kevin Mawae and guards Randy Thomas and Kerry Jenkins — to neutralize the push of middle linebacker Zach Thomas and tackles Tim Bowens and Daryl Gardener. That would give Martin a better chance to continue his pace toward another 1,400-yard rushing season. And it would give Testaverde room to step up if ends Armstrong and Jason Taylor bring pass-rush heat from the outside.
Coach Dave Wannstedt's challenge is different. He just doesn't want Miami's post-Dan Marino offense to lose the game. Their running attack, headed by journeyman Lamar Smith, is so-so at 3.8 yards a carry but should get an un-Dolphins-like 30-plus carries. Their passing game is 30th-ranked in the NFL, but Jay Fiedler has been efficient with the ball.
And the Jets' one Achilles heel (apologies to Testaverde) is their pass defense, which has yielded four 40-yards-plus receptions, including one in each of the last three games.
"I think we're better than what we've really shown,'' Green said. "If we could just cut down on the big plays that we've been giving up throughout the course of the season, then I think we can play with any defense in the league.''
A step in that direction was the base-defense rotation of Kevin Williams and Scott Frost alongside Green in the 34-17 win at New England. Miami offensive coordinator Chan Gailey may get the return of slot receiver O.J. McDuffie with which to probe the weaknesses of the Jets' alternating free safeties while not having to worry about missing rookie pass rusher John Abraham (abdominal strain), about whom coach Al Groh has said, "He's changed our team.''
"For us, being 5-1 is certainly better than being 1-5,'' Groh said, "but nothing's been done yet. It's like the house is clean, the hors d'oeuvres are done. Somebody says, 'That's a great party you had,' and you say, 'No, no, no, that's tomorrow.''
Tomorrow is here and the table is set. Are you ready for some Subway Series alternative programming?
This preview story originally appeared in The Bergen Record on Monday, Oct. 23, 2000.