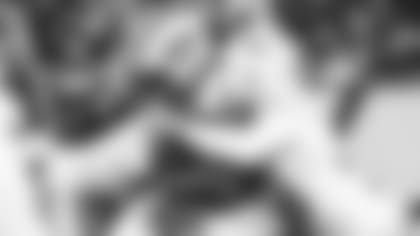 One Game
After playing one of the most complete openers in franchise history, what will the Jets have for an encore against the Dolphins? While pleased with their efforts in a 48-17 trouncing of the Lions in Detroit Monday, the Green & White quickly turned the page to the 1-0 Dolphins. The hallmark of good teams is consistency.
"That's one thing we have to always remember is that it's one game. It was a great one game, but we have to continue to pile those on," said wide receiver Quincy Enunwa. "Continue to pile on great one games until it's 16, 17, 18 and we're in the Super Bowl. That's the goal of any NFL team and we have to continue to be consistent. That's going to be my thing is consistency. If we're going to be good, we have to be good throughout the year."
B-Pow & The Crow
The Jets displayed great offensive balance in the Motor City with rookie Sam Darnold passing for 198 yards and the run game churning out 169 yards on the ground. Bilal Powell averaged 5.0 yards a pop and Isaiah Crowell ripped off a 62-yard scoring run and had two touchdowns while amassing 102 yards. Both backs bring a lot to the table and offensive coordinator Jeremy Bates, who employed a ton of different offensive sets against the Lions, has plenty of options with both.
"I try to be more than just one-dimensional. I try to be a receiver out of the backfield, pass protect and run the ball," Crowell said. "At the same time, he does the same thing. Our talent is about the same and we both can get it done."
Need for Speed
It looked like the Jets had 12 defenders on the field for much of Monday night's contest. Darron Lee had the first two interceptions of his career — one of which he returned for a score and Jamal Adams got his first career theft as the Green & White had five in all. They also are the NFL's top-ranked rush defense after surrendering just 39 yards to the Lions. The coverage was excellent in the back end, defensive coordinator Kacy Rodgers got creative with his looks and the Jets swarmed to the football. If they can repeat that effort against the Dolphins, Miami is going to have a difficult time moving the football.
"I just think we played fast. Even if we are wrong, we are still getting there," said cornerback Buster Skrine. "Bank on what we know and if something happens that we don't expect, playing fast can make up for it."
Gore to No. 4?
After rushing for 61 yards in the Dolphins' 24-17 victory over the Titans, Frank Gore needs just 15 yards to surpass Jets Hall of Famer Curtis Martin for fourth place on the NFL's all-time rushing list.
"That's big, but I'm still playing so I really don't think about it," Gore said this week. "I want to still compete with the young guys playing now. Whenever I retire, that's when I'll think about it."
Ryan Tannehill has some new weapons around him including Danny Amendola and Albert Wilson, but it was Kenny Stills who had a titanic effort against Tennessee with four catches for 106 yards and two touchdowns. But make no mistake — the Dolphins will come out committed to move the ball on the ground.
"Gore is downhill, still got a little speed to him," Skrine said. "Kenyan Drake is a stretch and cut guy, but if he has to put his shoulder down and get physical – he will. He can do everything. I feel like he is one of their key players."
Darnold's Home Debut
Following a pick-six on his first play in the NFL, Darnold extinguished his nerves in Detroit and put together a steady performance out of the gate. The red-headed rookie returns home to the friendly confines of MetLife Stadium this weekend against a Dolphins defense that features edge rusher Cameron Wake and one of the game's top safeties in Reshad Jones. Darnold is good inside the pocket, but he adds another dimension when he uses his feet to extend the action.
"I think the most common thing everyone says is his poise in the pocket. It's huge," Enunwa said. "After watching the game, another thing is his ability to move on from that play, whether it's a good one or a bad one. He's able to go ahead and move on from it and get to the next one. That's huge for a quarterback, having a short-term memory. You don't want him to get too high or too low and he stays right there. He's even-keeled and able to lead us to victory."