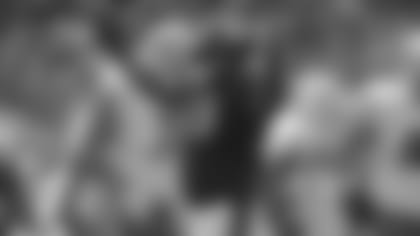 Jets are airborne vehicles, yet they can be called ships as well. And Vinny Curry, one of the new veteran arrivals on the Jets' defensive line, perhaps was referencing the vessel that travels by water rather than air when asked if he had any hesitation before signing on the dotted line to join the Green & White.
"No, not at all," said the friendly Jersey Shore denizen and former Philadelphia Eagle when he talked with the team's reporters this afternoon for the first time. "When you just see Coach [Robert] Saleh, [GM] Joe Douglas and everybody, see where they're trying to take this ship, I just wanted to be aboard.
"I've seen this ship before. When Coach [Doug] Pederson took over in Philly, I saw this ship. I just wanted to be part of it. So no hesitation at all."
What Douglas and Saleh have done so far, at least up front on the Jets' line, is to turn a strength into a different kind of strength, from a 3-4 scheme with some emerging players and some depth into a 4-3 scheme with even more players and more depth. And because Curry watched with professional interest as Saleh worked some "next man up" magic last year as San Francisco's D-coordinator, he couldn't wait to get his green boarding pass.
"What Coach Saleh did was amazing," Curry said. "His starters get hurt, he comes back with his second group and does what he does, and even those guys have a rotational group. It says a lot about those guys as football players. And him as a coordinator, bringing everybody's strengths into one, that says a lot about his character."
Now Curry, joining a band of holdovers led by Quinnen Williams and Folorunso Fatukasi along with other recent signees in Carl Lawson and Sheldon Rankins, sees a Saleh West project being transplanted 3,000 miles to not far from Curry's old stomping grounds to the East Coast.
"I think the sky's the limit," he said. "I think I fit right in with those guys, my game and the way I play the game. I think once we all get around each other and get a feel for each other, we have the potential to really be a force up front. ... Potentially we could be something special."
Speaking of the coast and specifically the Jersey shore, Curry, since being a second-round pick out of Marshall by Philadelphia in 2012, has rarely not been close to Neptune, NJ, where he grew up, or Ocean City, further south and where he hung out and worked out while he was an Eagle.
"Anybody who knows me knows I only know one speed, 100 percent," he said. "And there are a lot of Jets fans where I'm from, and they're excited about it. They already know what to expect from me.
"So it's going to be great."