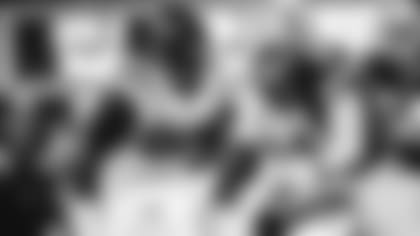 Steve McLendon is the Benjamin Button of the Jets defense. As the 33-year-old defensive tackle gets older, his play gets better.
McLendon joined the Jets in 2016 as a free agent after six years with the Steelers and has totaled 77 tackles and six sacks over the past three-plus seasons with the Green & White. The 10th-year player comes to work every day with the same mission — stay focused, stay driven and understand your why. Over the weekend, McLendon's hard work paid off with a contract extension through the 2020 season.
"When they called me, I was just excited. The contract caught me by surprise as well," he said on Inside the Jets with Eric Allen and Erik Coleman. "I'm just coming in to do my job every single day, that doesn't change for me.
"For me, when the coaching staff [was hired], they called me and asked me to come back. When you have a switch like that, most of the older guys are gone and I understand the business side of it."
Now led by defensive coordinator Gregg Williams, McLendon pledged in OTAs that he'd drop his weight to 310 pounds if it meant more playing time, to which Williams responded, "We'll see." McLendon fired back, "Gregg. I'm going to get down." Sure enough, he did.
"I changed up everything," McLendon said of his offseason workouts. "I changed up my diet, I stopped eating candy, sweets, drinking Gatorade. I pretty much just drink water and other things that have electrolytes in them. I just changed up everything because I wanted to look better, feel better and be different.
"My level of training is different from everyone else's. I train 12 hours a day because it's my job. I don't go to school. My classwork is in the weight room, it's pulling trucks. I just said if I beat my body down now, if I fail now, when it comes it comes to the season, failing is not an option. So, when I got to training camp this year, I was like, 'Man it's going to be something scary.' "
Lighter and stronger, McLendon is one of six team captains and has played 43% of the team's defensive snaps in 2019. The Jets defensive line is one of the deeper positions on the team with the likes of Leonard Williams, Henry Anderson and Quinnen Williams, and the average age among the DL, excluding McLendon, is 24.
"The competition is always high and we know this is a production business, so Gregg (Williams) wants everybody to produce and how you produce is your work ethic every single day," he said. "You study, you're locked in, you're mentally there, living in the moment. Do not look outside of what's going on now where your feet are. To see all these guys, every single day, to come in with a level of focus and are eager to win, it's better than any other feeling."
McLendon is more than the mentor for the D-linemen. He's the team's mentor and no matter who walks in or out of the doors of 1 Jets Drive, McLendon's message remains the same.
"If you prepare and have your mindset to make the practice squad, that's what you're going to make," he said. "If you prepare and have your mindset to get on the 53-man roster, that's what you're going to do. But if you prepare to be a starter and be great, that's exactly what you will become. So, that's the same message that I've been giving every young guy that comes in this building."