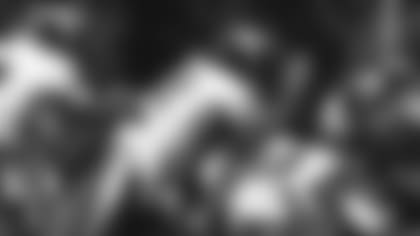 Through just five training camp practices, Jets defensive lineman Leonard Williams already senses his play has improved.
"I feel faster, I feel stronger," Williams told reporters after Monday's practice. "I feel like I'm flying around. I'm comfortable with the defense, the people next to me, which is really important when you can trust your teammates. The guy that's coaching me has a lot of passion and fire and I feel it through me as well. I feel like that's great coaching when you can feel your coach's energy.
"Overall, I feel like we're going to fly around a lot this year."
In the spring, defensive coordinator Gregg Williams said he's going to cut the Big Cat loose in 2019 and in the first handful of practices of the summer, the fifth-year veteran has been a force, particularly against the run.
"Every time I play against him, he's got a new move each year," said right guard Brian Winters of his teammate. "It's like one of things where you dial it in, and then the next thing you know he's got a new move and you're like 'Dang, man.' You've got to go back to the drawing board."
Although Williams has received positive feedback from his coaches, he's looking to continue to stack good days because consistency is "the one thing that separates you from being great compared to good."
The long-limbed defensive lineman trusts his playcaller, the louder Williams, to put everyone in the best position to make plays. And with the depth of the defensive line that includes Henry Anderson, Steve McLendon and rookie Quinnen Williams, the 6'2", 302-pound Williams believes he'll be more effective with fresher legs throughout the season.
"When it gets into clutch situations when you need someone to be 100%, all-go pass rushing, you want to put a guy in that's pretty fresh to do that," he said. "You're obviously not going to be fresh every game, every fourth quarter, but having more of a rotation and more guys to play on the D-line is going to allow that to happen."
Before accepting the job as head coach of the Green & White, Adam Gase was most familiar with Williams from the film room and opposing sideline. Now donning the same colors, Gase has been impressed with Williams' work ethic, attitude and energy level, and believes the 25-year-old still has room to grow.
"I don't know what it was when he played us, but he was a nightmare," he said of Williams. "We doubled him, the whole gameplan was based around him until Jamal came and then it was both of those guys. But every play we would try to double him. Whether it was pass protection or the run game, it never seemed to matter. We couldn't run the football against him ever. He was an absolute nightmare for us to go against."